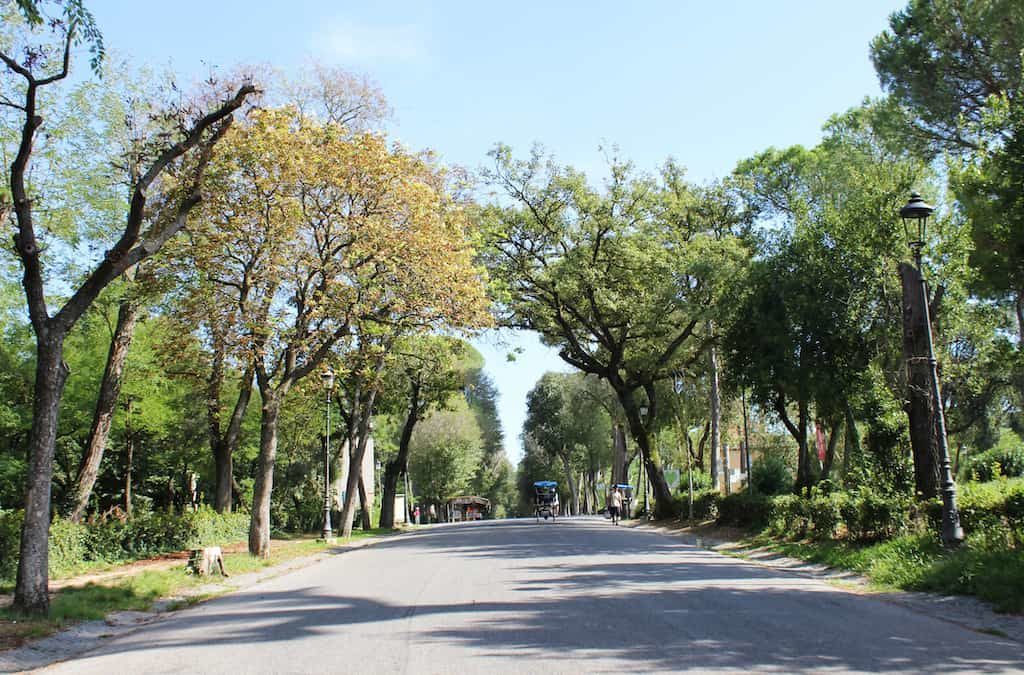 Getting around Villa Borghese – Borghese Gardens Segway Tour & More
---
If you've done your research on Villa Borghese, you'll realise that it's no small area. With over 80 hectares of sprawling parkland dotted with more than 90 points of interest there's a lot of ground to cover.
Getting to different corners of Villa Borghese Park, for example from the Borghese Gallery to the Temple of Asclepius, can take time.
Of course, it's no problem if you've set aside an entire day to explore Villa Borghese Park on foot. But it can turn into a mad rush if there are other Rome attractions on your itinerary.
Fortunately, there are quicker ways to get around, including a Borghese Gardens Segway Tour or bike rental. Hell, there's even a Villa Borghese golf cart rental option.
6 Borghese Gardens transport options for easy exploring
1.     Borghese Gardens Segway tour
The many paved and unpaved roads and paths inside Villa Borghese Park makes it the perfect terrain for exploring on a Segway.
Segways are considered to be walking devices, so you can literally drive it where others are sweating it out on their own two feet. And even if you haven't driven one before, you can learn how to in 5 minutes.
There are 2 options for a Borghese Gardens Segway tour:
Self-guided Borghese Gardens Segway tour
This means you rent a Segway for however long you want and go wherever you want. Doing it this way gives you the independence of seeing what you really want to see and managing your own time.
Rolling Rome offers Segways to rent for independent use.
Segway rental cost:  €15 per person per hour. The price includes a helmet and a complimentary map.
Where: There's a Segway pick-up and drop-off point at Piazzale delle Canestre, almost in the centre of Villa Borghese Park. But don't expect to just arrive and be on your way. It's important to book in advance to ensure availability.
Guided Borghese Gardens Segway tour
If you want to know more about all the Villa Borghese attractions you pass on your Segway, a guided Borghese Gardens Segway tour may be a better option. This way you can be sure you won't miss out on anything important.
This Borghese Gardens Segway tour is 3 hours long and includes a 30-minute orientation. Points of interests you'll get up close and personal with on your Segway are the Canonica Museum, House of Roses, Temple of Diana, Piazza di Siena, Villa Borghese Lake with Temple of Asclepius. You'll also get to enjoy beautiful views of Rome from Pincian Hill.
Meeting point: Castel Sant' Angelo pedestrian area.
Cost: €75 per person, including your Segway, guide, and a rain poncho.
2.     Villa Borghese Golf Car Rental
Instead of renting Segways, groups of up to 4 people who like to do their own thing can also rent electric golf cars in Villa Borghese.
The spacious golf carts can drive on any road in Rome. What's nice is that they also come with permission to drive in Villa Borghese Park and even some limited traffic zones in Rome's historic centre. And you can park it for free behind any blue or white curb lines!
Families with small children or any traveller with walking difficulties especially enjoy the comfort and flexibility of a golf car.
Villa Borghese golf car rental cost: €125 per golf cart for 4 hours or €175 for the entire day (10:30 – 18:30)
Where: Piazzale delle Canestre inside Villa Borghese Park – the same place where you can rent Segways.
If you want to enjoy Rome with a live tour guide, you can check the golf car guided tour here.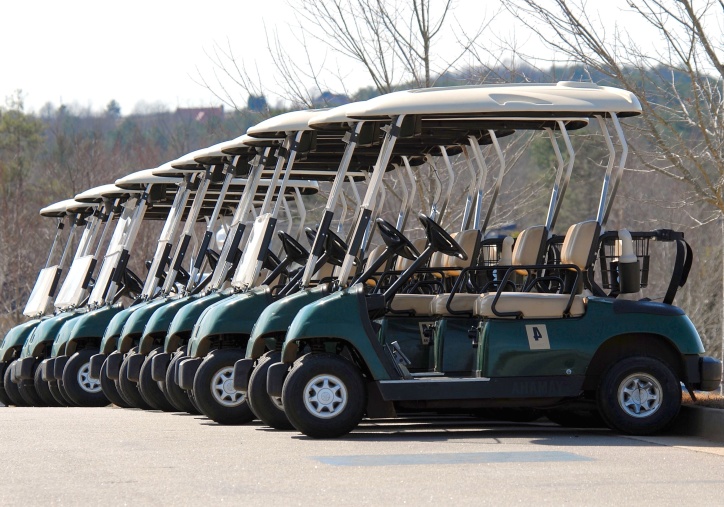 3.     Bike rental Villa Borghese
A cheaper option to get around Villa Borghese Park if you don't want to walk, is to rent a bicycle. Getting a little exercise isn't a bad thing either, or is it? (But you can also cheat and rent an e-bike!)
As with a Borghese Gardens Segway tour, you have the option to rent a bike and ride around Villa Borghese independently or join a guided tour. We look at both options:
Independent bike rental Villa Borghese
There is quite a bit more bike rental stations in Villa Borghese Park than Segway or golf car rental stations. One of the main ones is at Via Giacomo Puccini 11. It belongs to Bicicletta Italiana who allows you to rent or return bikes at any of their bicycle stations.
Other bike rental Villa Borghese locations are at Viale dei Bambini and Piazzale M Cervantes. If you're looking for one close to the Borghese Gallery, go to Viale dell'Uccelleria.
Cost: From €3 per hour to €12 for 12 hours. E-bikes start at €5 per hour. You can also check out this electric bike rental option for €20 for 4 hours. It includes helmets, locks, and even a bicycle basket. And you can venture outside the Borghese Gardens with it too.
Tip: Why not rent a trekking bike for 2 days to explore more of Rome?
Guided Borghese Gardens bike tour
Get into the saddle behind a professional guide, who'll even take you to taste some great Italian coffee during a 3-hour bike tour of Villa Borghese. While enjoying the fresh air, you'll get some history lessons on the Borghese Gardens sculptures and other points of interest.
The guided bike tour allows you to enjoy top views over Rome's rooftops from Pincian Hill. Water is also provided to quench your thirst after conquering the hill.
The tour starts at €39 per person.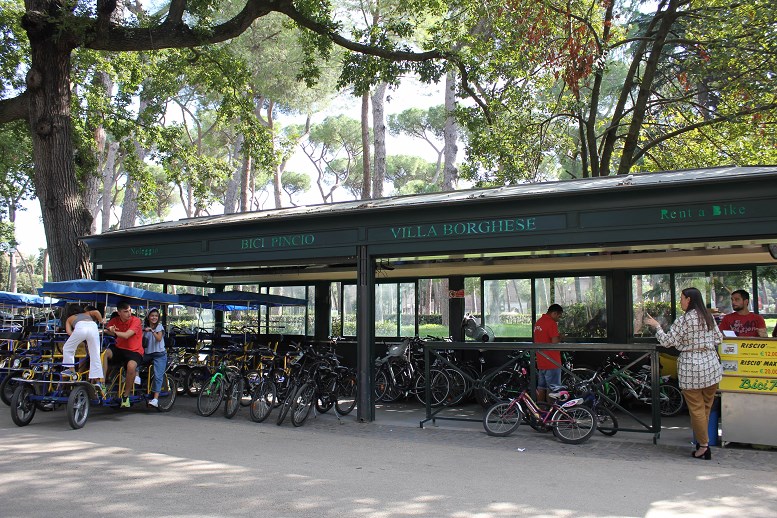 4.     Electric paddle car
A cross between a golf cart and an e-bike, an electric paddle car is great fun to explore Villa Borghese with. Families especially love them for keeping their kids occupied and happy while getting from point A to point B.
Called "riscios" or rickshaws, the electric paddle cars are available from a car hire stand called Bici Pinico inside Villa Borghese Park. Their electric power kicks in as soon as you start to pedal, making it very easy to navigate through the Borghese gardens. Just keep your foot on the brake for a long time when you want to stop, because the riscio just wants to keep goings after being powered up.
Cost: €12 for the 2-person cart per hour or €20 for a 4-seater
Paddle cart station: Piazzale Napoleone I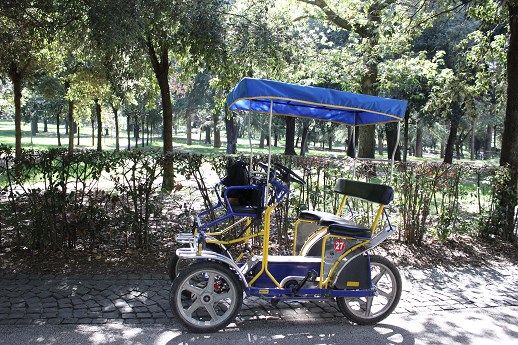 5.     Rent a boat at Villa Borghese Lake
Who would've thought that boat rental would be an option to see more of Villa Borghese? Well, it is on the man-made lake in one corner of the park.
Rowing across the Villa Borghese lake is a relaxing thing to do after rushing around sightseeing. It's also the only way to get up close and personal with the Temple of Asclepius on an island in the middle of the lake.
Keep your eyes open for the boat house where the row boats are kept. Then look for the "cassa" to pay. This is how it works in case the assistant doesn't speak English: You'll get a ticket with a number which is called out when it's your turn to fetch your boat. So, stay near and listen carefully as to not miss your turn. Your number is called out again when your time is up.
Cost: €3 per person for 20 minutes.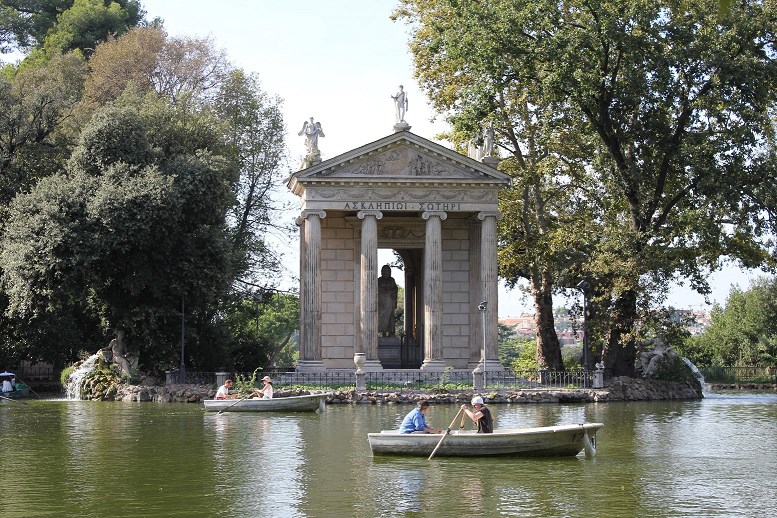 Sometimes our own two feet remain the best mode of transport. If you're the kind of traveller who prefers exploring alone or see walking as a way to keep fit when travelling, you'll love discovering the Borghese Gardens on foot. Just allow more time than if you were using a Segway, golf cart, bicycle or paddle cart.
You can also stop for a peaceful picnic in the Gardens. It's one of the most romantic and relaxed ways to experience Rome's green lung.
No matter how you like to get around, there certainly is an option for you in Villa Borghese Park (outside of flying!).
Visiting with kids or mobility challenged people? Try the Villa Borghese golf car rental. Families also love the electric paddle cars.
For something more exciting, a Borghese Gardens Segway tour is perfect. However, the cheapest option if you don't want to walk is to get on a bicycle.
Bike rental Villa Borghese is well organised with various stations spread across the park. So, what are you waiting for? Book your transport option now!
3 Comments