Bernini Sculptures and Caravaggio Masterpieces: Discover the Borghese Gallery
---
The Borghese Gallery is one of the top attractions in Rome for any art lover. It's home to several masterpieces by world-famous Renaissance, Roman and Baroque artists. From Bernini sculptures to Caravaggio paintings, you can admire some of the greatest masterpieces in the world.
Here's everything you need to know about the masterpieces exhibited in the Borghese Gallery, and how you can best plan your visit.
The history of the Borghese Gallery
The Borghese Gallery is located in the main building of Villa Borghese, a grand 17th century stately home. Before becoming an art gallery, the building was the home of Scipione Borghese, an Italian cardinal.
Scipione had such a passion for art that he began collecting it obsessively. He would go to all lengths to acquire masterpieces so that he could exhibit them in his home. So the collection of art on display at the Borghese Gallery was initially Scipione Borghese's own private collection.
From the 17th century until the early 19th century, the art collection in Villa Borghese remained private, off-limits to the public. But in 1903 the Borghese Family finally opened the Gallery to the public.
Bernini Sculptures and world-famous artists exhibited in the Borghese Gallery
The Borghese Gallery collection of art might have been collected by a single man, but make no mistake, it's no small collection.
There are two whole floors of exhibition rooms, and several masterpieces by world–famous artists. Here are some of the most well-known artists you'll find exhibited in the Borghese Gallery.
Gian Lorenzo Bernini is viewed by many as the founder of the Baroque sculpture style, but he wasn't just a master of sculpture art. Bernini was a sculptor, a painter and an architect. He was even commissioned to work on the interior artwork of St Peter's Basilica and to this day, his Baldachin stands proud as the basilica's centrepiece.
He was a jack of all creative trades, and his art and architecture can still be seen around the city. His Fountain of Four Rivers for example still stands in Piazza Navona.
But if you want to see more Bernini sculptures, the Borghese Gallery is home to the world's largest collection of Bernini's works. The gallery has an entire Bernini exhibit with 8 different subsections.
You'll be able to see for yourself the grandeur and vivid emotion conveyed by his marble, terracotta and bronze statues. You can gaze upon the detail and unravel the stories behind some of Bernini's best works, including The Rape of Proserpina and Apollo and Daphne. There's also a section of the Bernini exhibit dedicated to his paintings.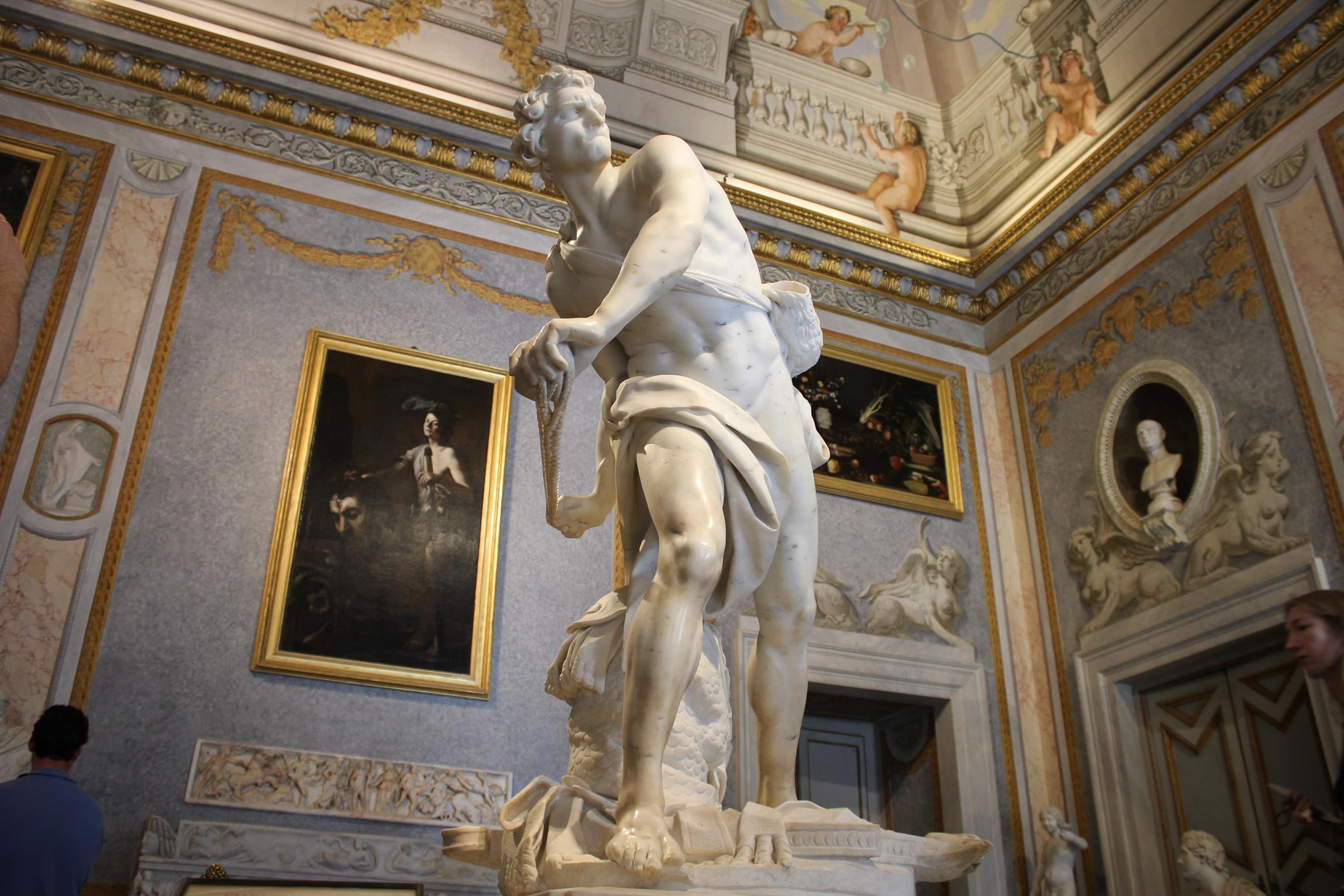 Michelangelo Merisi da Caravaggio was a 16th century painter who paved the way towards Baroque painting. He used contrasts between dark and light to depict the darker moments of life – moments of violence, torture and death. Even in his not-so-dark works, he would include any flaws he saw in his subjects, rejecting flattery and idealism in art.
Whilst controversial at first, Caravaggio's paintings came to be admired for their realism. He was contracted to decorate the Contarelli Chapel of San Luigi dei Francesci and received several other high profile commissions.
Despite his success, Caravaggio lived a troubled life. He was often at the centre of violence, and one brawl even led to him being sentenced to death for murder. He fled to escape death and on the run he developed his style in Malta and Sicily. But he continued to brawl and create enemies, and even had his face disfigured during a fight in Naples. In 1610 he died of mysterious circumstances.
You can see some of the most famous Caravaggio paintings in the Borghese Gallery, including the Boy with a Basket of Fruit and David with the Head of Goliath.
Raffaello Sanzio da Urbino, or Raphael as he's more commonly known, is widely accepted as one of the greatest painters of all time. He was born into a high circle, with his father being painter to the Duke of Urbino, and later became a painter Pietro Perugino's apprentice. He grew up surrounded by art, and went on to become Michelangelo's rival.
Raphael was admired for having a natural and seemingly effortless ability to paint clear and idyllic images. The Borghese Gallery displays Raphael's famous Deposition which shows Jesus being carried from the cross to the grave, and his 1505 painting Lady with a Unicorn.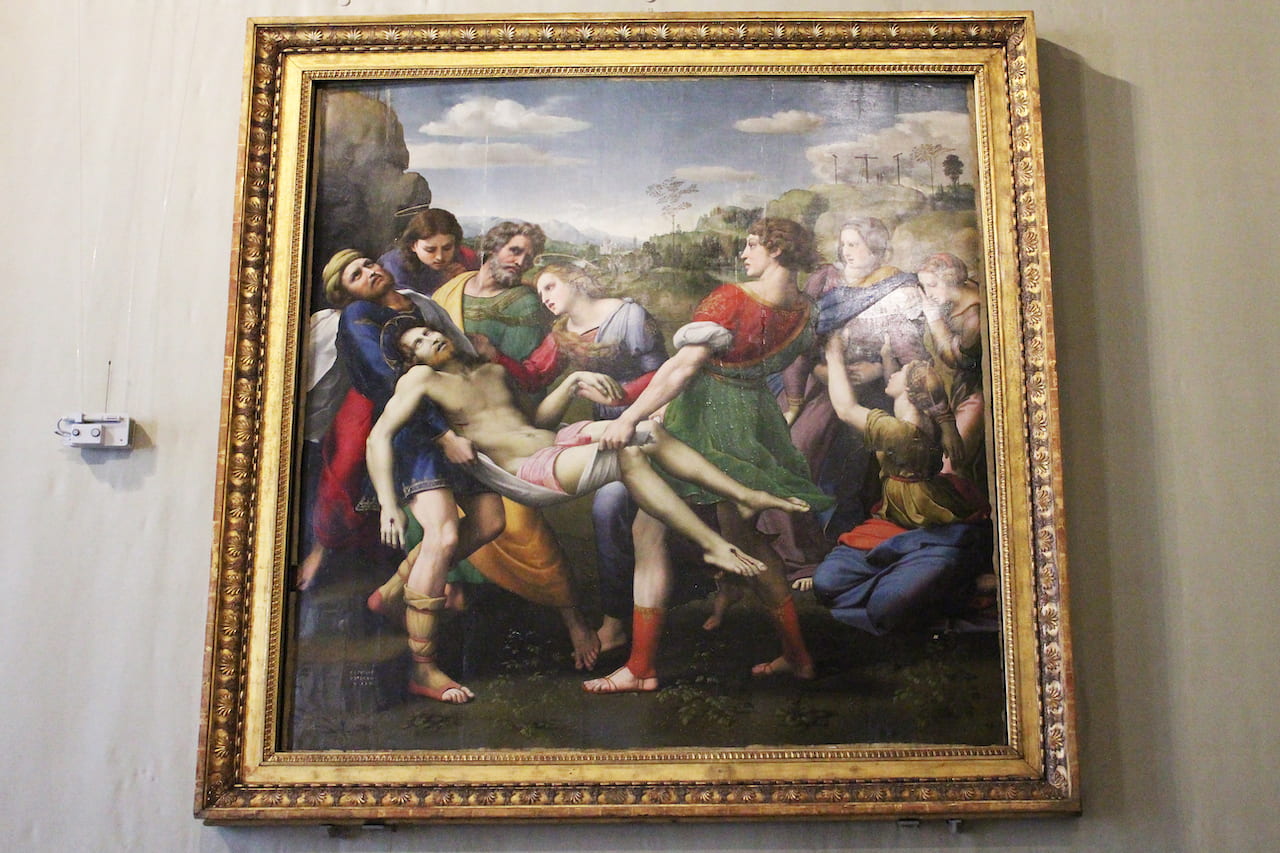 Tiziano Vecelli was one of the most versatile Renaissance painters. He didn't stick to one style of painting, instead he painted everything from portraits, to landscapes to mythological scenes. He lived a long life and over the years his style changed frequently, making him one of the more dynamic painters of the 16th century.
One constant throughout many of his paintings though was the use of colour. If he was painting a landscape, the colours of nature would be vivid. If he was painting a portrait, the colour of the subject's clothes would stand out from the rest of the painting.
The Borghese Gallery exhibits several of Titian's paintings, including Venus Blindfolding Cupid, St. Dominic and Sacred and Profane Love.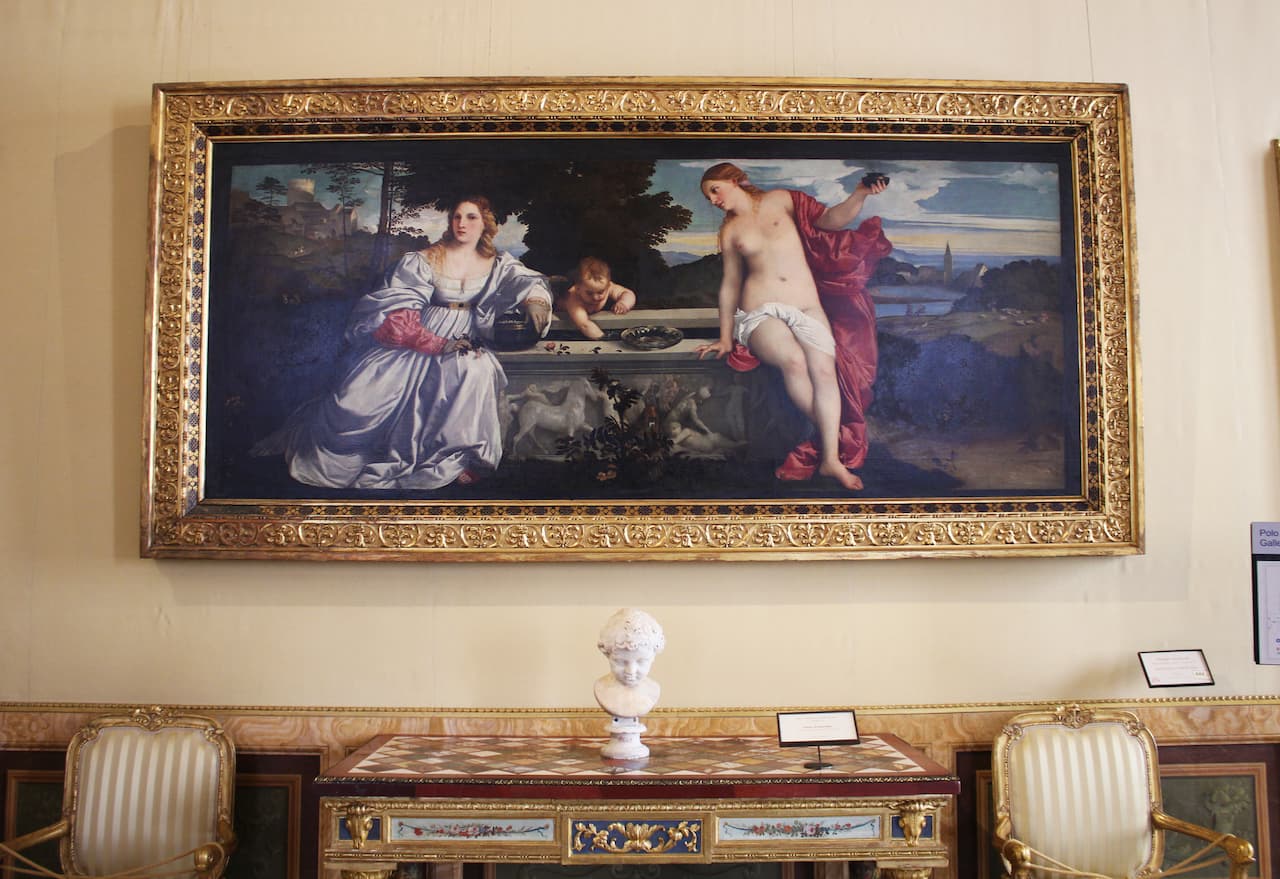 Must-see masterpieces in the Borghese Gallery
There are so many different pieces of art to admire at the Borghese Gallery, but there are some masterpieces you definitely don't want to miss. Entrance to the gallery is only for two hours, so planning what masterpieces you want to see is a must.
Here are some of the most famous masterpieces in the Borghese Gallery, including Bernini sculptures and Caravaggio paintings.
Apollo and Daphne Bernini
Apollo and Daphne Bernini shows Daphne escaping Apollo's love by transforming into a tree. The marble sculpture shows Daphne at the moment of transformation, and vividly depicts Apollo's shocked response. It was sculpted between 1622 and 1625.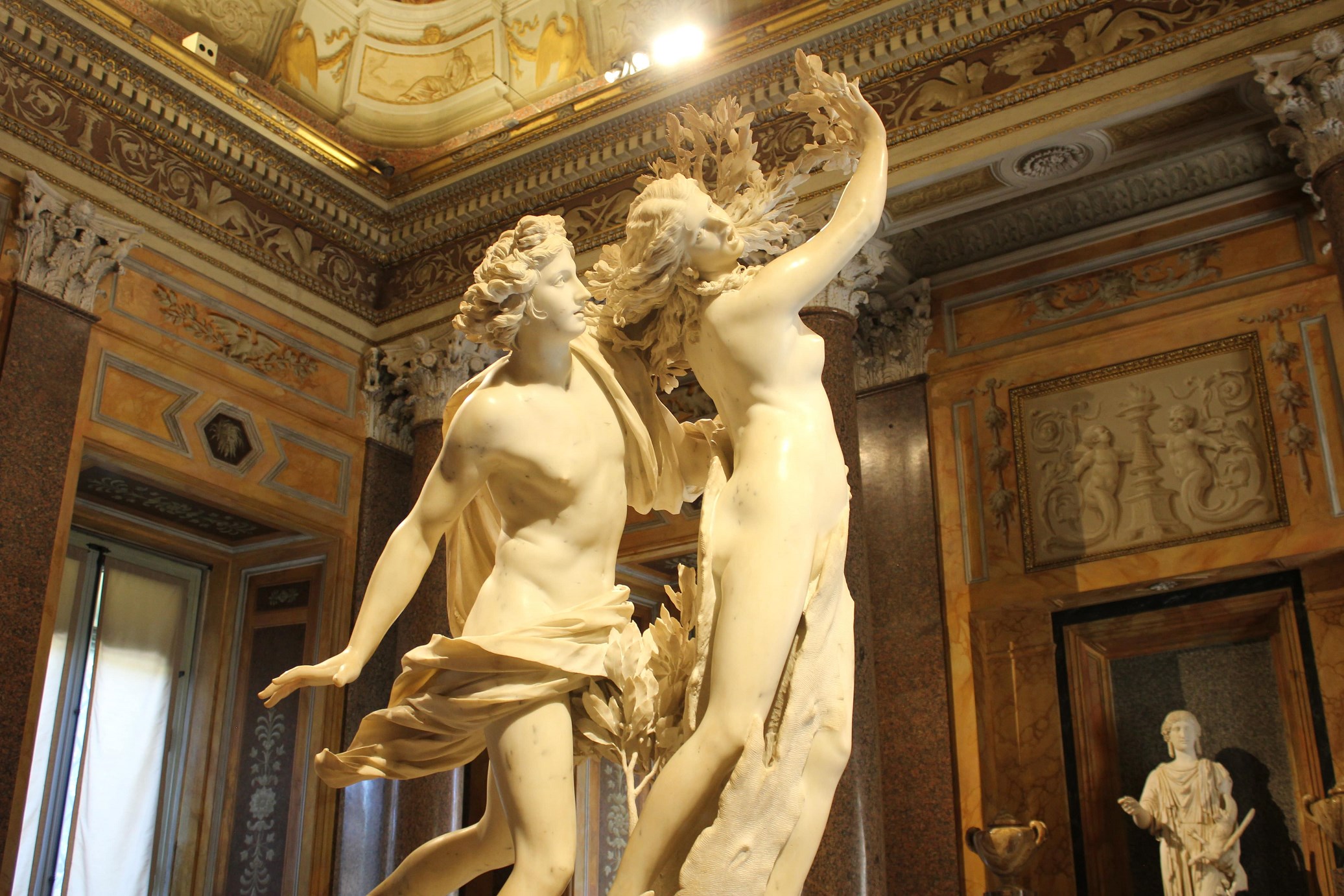 The Rape of Proserpina, Bernini
The Rape of Proserpina is another Bernini sculpture made from marble, sculpted between 1621 and 1622. It shows the abduction of Proserpina, an ancient Roman goddess. The story goes that she was taken by Pluto, who was the ruler of the Underworld.
Young Woman with a Unicorn, Raphael
This is one of Raphael's most famous portraits, but still no one knows exactly who the lady in the painting is supposed to be. One interesting thing to note about this painting is that originally, the unicorn was supposed to be a dog. But Raphael painted over the dog with the image of a unicorn – a symbol of purity.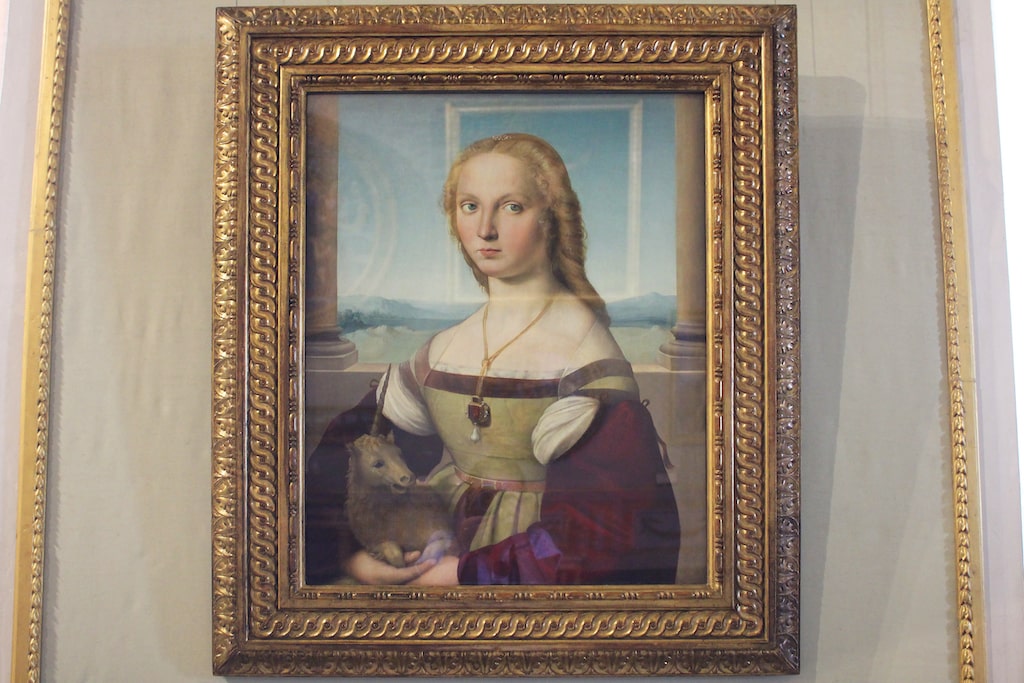 David with the Head of Goliath, Caravaggio
This is one of the darker Caravaggio paintings, and it's one that perfectly depicts Caravaggio's dark, contrasting style. This painting shows David holding out the severed head of Goliath, but rather than Goliath's face, Caravaggio painted his own. In doing so, he paints himself as damned as a result of violence and conflict.
Sacred and Profane Love, Titian
This famous painting by Titian shows two ladies with a child between them. One of the women is fully clothed with a sprig of myrtle, and the other is nude, gazing at her female companion. No one is entirely sure what the painting means, or even if its current title was what Titian intended.
Where to find Bernini Sculptures and the Gallery's Masterpieces ?

The Borghese Gallery has two floors, and different rooms for different artists and exhibitions. The gallery is laid out into different time periods which makes it relatively easy to navigate.
On the ground floor you'll find Apollo and Daphne Bernini in room 3, along with several other Bernini sculptures. The ground floor is also home to other sculptures such as Pauline Bonaparte as Venus Victrix, and you can find Caravaggio paintings in room 8.
The first floor is where you'll find the works of 16th and 17th century painters, including Titian and Raphael. You'll find Raphael's works in room 9, and Titian's works in room 20. On this floor you'll also find paintings by Bernini.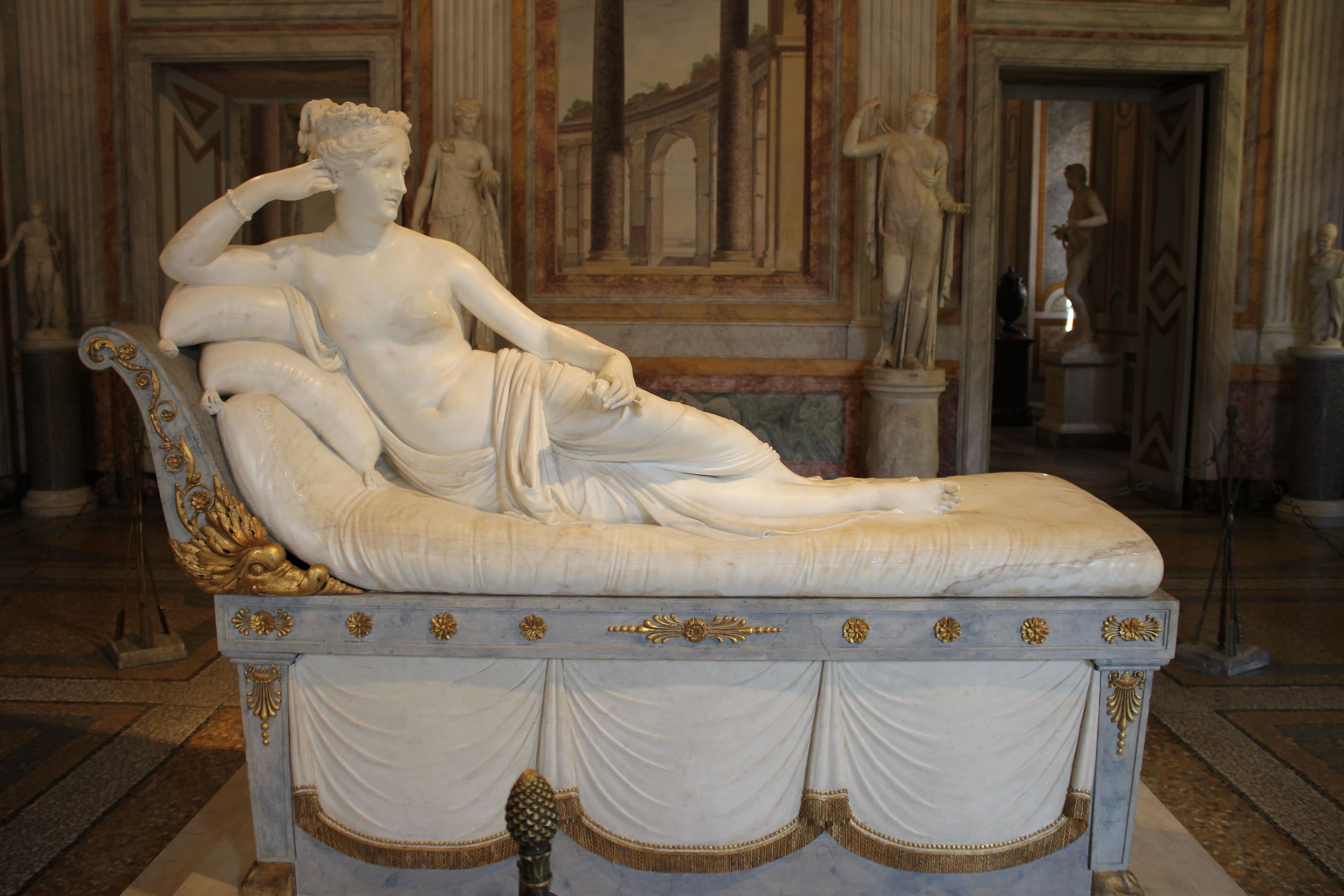 How to buy a ticket to the Borghese Gallery?
To make sure the gallery never gets too crowded, 360 people only are allowed into the gallery at any one time. You'll also need to reserve a ticket, as tickets are for set entrance times. You choose what time you want to enter, and then you'll have two hours to explore the gallery.
So the easiest way to reserve your Borghese Gallery ticket is online. Just go to the Borghese Gallery website and choose your time slot. Or book directly here:
The Borghese Gallery is open from 9am to 7pm every day except Mondays, when it's closed. So the earliest you can visit is 9am-11am, and the latest is 5pm-7pm.
Full tickets cost 20,50 euro, and half tickets (for anyone aged 18-25 from the European Union) cost 14,50 euro. Children under 18 just have to pay a 6 euro reservation fee.