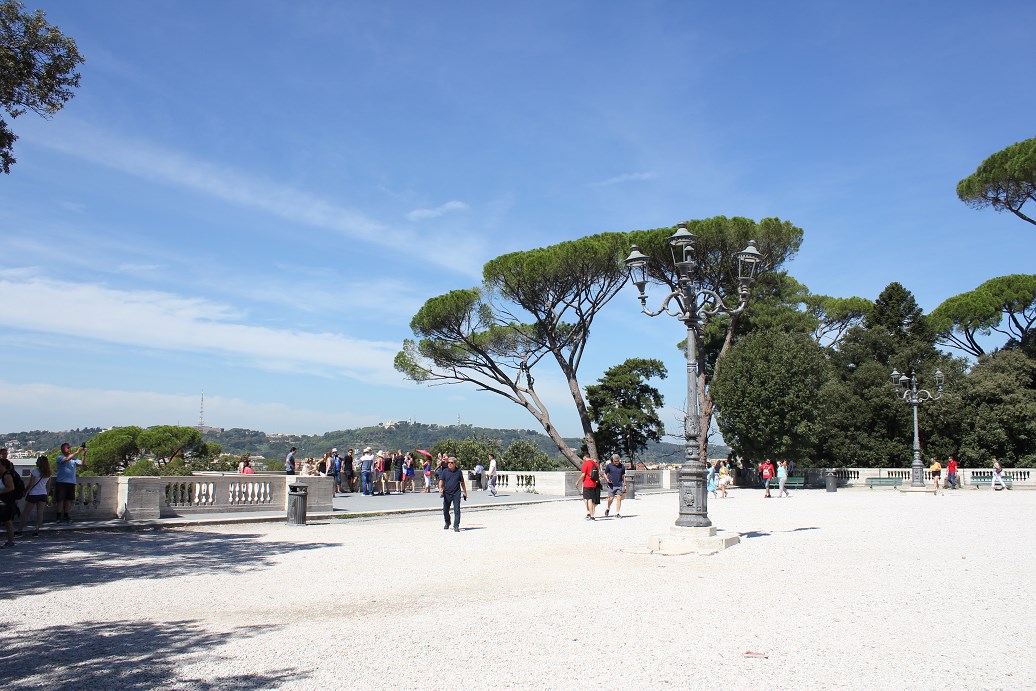 Terrazza del Pincio – How to Spend and End the Perfect Day in Villa Borghese
---
With 80 hectares of sprawling parkland, gardens, and attractions ranging from one of the world's finest art galleries to a zoo and cinemas, Villa Borghese Park is a destination in itself. You can easily spend an entire day in Rome's green lung.
This guide will show you how to go about it in an organised way. It will lead you to Terrazza del Pincio, where you can end your day with magnificent views over the Eternal City at sunset.
What is Villa Borghese Park?
The Villa Borghese is Rome's 3rd largest public park and closest to the historic centre. You'll find the Piazza del Popolo and Spanish Steps right on its borders.
Borghese Gallery, the main attraction
What makes Villa Borghese Park so special, are the interesting and diverse points of interest inside the green expanse. There are more than 90 of them. The most famous and popular is certainly the Borghese Gallery, home to world-famous sculptures and paintings by the likes of Bernini, Caravaggio, Raphael, Rubens, and Botticelli.
Much more activities, museums and the great Terrazza del Pincio
But then there's also the Bioparco zoological gardens, an Elizabethan theatre, the National Gallery of Modern Art, and the Mannerist Villa Medici. That's not even mentioning the natural and garden features, such as Pincian Hill with the Terrazza del Pincio, Temple of Asclepius, and Piazza di Siena.
With 9 entrances and hundreds of paths to choose from, it can be very confusing to plan a day in Villa Borghese Park. Where should you start, what is worth stopping at, are there restaurants and cafés?
We try to answer all your questions in this one-day itinerary which ends on a romantic note on Terrazza del Pincio.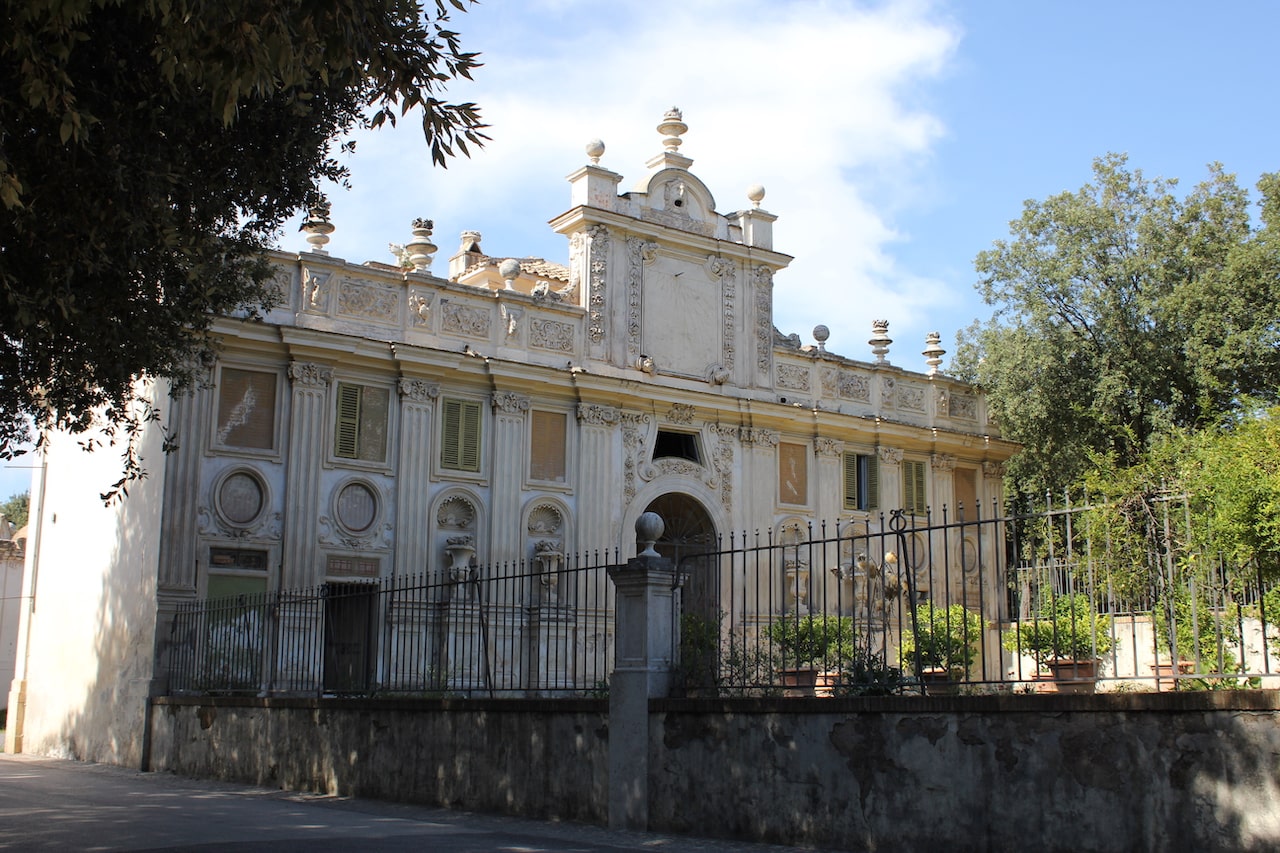 The perfect day in Villa Borghese Park
How to spend your morning in Villa Borghese ?
A good place to enter Villa Borghese Park first thing in the morning is from behind the Spanish Steps. Why? Because you can enjoy the stunning views of Rome in the early morning light from the steps before entering the park.
At the top of the Spanish Steps, turn right in front of the Chiesa di Trinita dei Monti church. Not far from you, you'll find the Via Di Porta Pinciana on your left. Follow it until you get to the Porta Pinciana.
Once inside the park, the Cinema dei Piccoli is straight ahead of you. With 63 seats, it's the smallest purpose-built cinema in the world (and listed as such in the Guinness Book of Records). While there are no shows in the morning, the interesting little building is still worth a photo stop.
1. The Borghese Gallery
Now retrace your steps back to Porta Pinciana and follow the well-marked Viale del Museo Borghese from there. It will take you straight to the Borghese Gallery.
Borghese Gallery – Home to the fantastic collection of paintings and sculptures of Cardinal Cardinal Scipione Borghese.
If you want to go inside the Borghese Gallery, it's important to know that advanced bookings are essential. Only 360 people at a time are allowed inside in 2-hour slots. If you don't have pre-purchased tickets, your chances of getting in are slim.
Therefore, if you're planning on incorporating it into a one-day visit to Villa Borghese Park, it's a good idea to choose the 09:00-11:00 or 11:00-13:00 time slot. When doing so, keep in mind that you should arrive at least 30 minutes ahead of time to allow for luggage storage, bathroom visits, audio guide rental, etc.
Tip: A guided tour led by an art historian is highly recommended if you want to learn all the interesting facts about the artwork and the artists.
2. Take a coffee break
After admiring all that art, a drink and snack or lunch will be welcome. Depending on what time it is, you can opt for Caffe Borghese at the gallery. However, if time is on your side, we'd suggest only having a coffee here and continue your discovery of Villa Borghese Park.
3. Piazza di Siena
Go down Viale dell' Uccelliera after leaving Gallery Borghese. Turn left onto Viale dei Pupazzi. Check out the gorgeous Fontana dei Cavalli Marini before going right into Viale dei Cavalli Marini. Soon, you'll see a sign for Piazza di Siena on your left.
Piazza di Siena – A square in the heart of Villa Borghese Park that takes its name from the city where the Borghese family originally came from. Prince Marcantonio Borghese commissioned it to be reminded of his beloved Siena while in Rome. The family used to gather on Piazza di Siena to celebrate their Tuscan traditions.
The Piazza di Siena is a famous venue for horse jumping shows. In 1960, the equestrian dressage and individual jumping competitions of the Summer Olympics were held here.
4. Lunch time at Cadina del Lago
If you haven't had lunch by now, now is the time to look up Casina del Lago, a small café along Viale del Aranciera. It's the perfect place for a pit-stop when spending a day in Villa Borghese Park. They offer filling Italian snacks and refreshments in a lovely garden setting.
How to spend your afternoon in Villa Borghese ?
1. Temple of Asclepius
An energising stop at Casina del Lago prepares you for the rest of your day in Villa Borghese Park. The next stop a few minutes down the road from the café is Villa Borghese Lake and the Temple of Asclepius.
Temple of Asclepius – The centrepiece of Villa Borghese Lake is this 1786-replica of the ancient temple of Asclepius on Tiber Island. It's setting on a small island in the middle of the lake also makes it one of the most romantic destinations in Rome.
With the best part of the afternoon to spend in this area of Villa Borghese Park, you'll have enough time to rent a boat and row around the lake and to the Temple of Asclepius. It costs €5 for 20 minutes, which is more than enough time for this activity.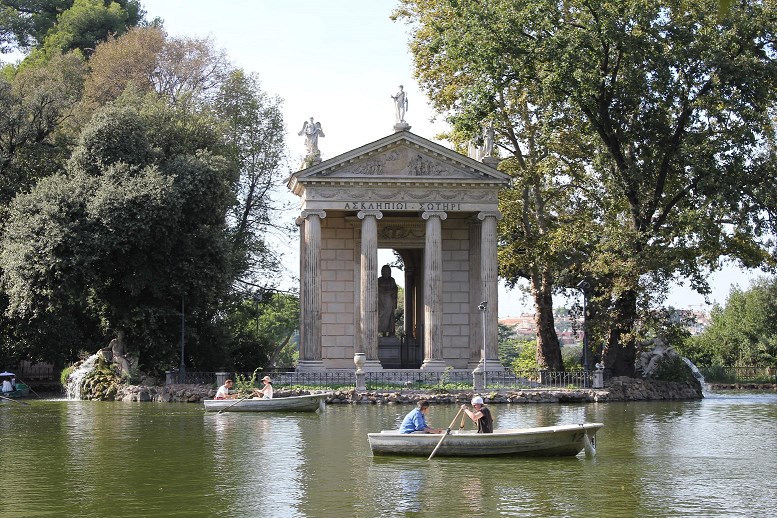 2. Pincio Promenade
From the lake, head down Viale Esculapio to Fontana di Esculapio or the Fountain of Asclepius. Prepare for a leisurely stroll as you turn left onto Viale Fiorello la Guardia. Then turn right on the Viale Tarragona and make your way to the Pincio Promenade area.
The Pincio Promenade boasts various statues and garden features in scenic surroundings. Things to look out for include:
   The clock of the Pincio in Viale dell'Orologio. This is a water clock invented by Giovan Battista Embriaco in 1867 and exhibited at the first World Expo in Paris.
    The Pinciano Obelisk, an ancient Roman obelisk which was first erected for the tomb of Antinous in Tivoli. It was moved several times over the centuries until it found its final resting place on the Pincian Hill in 1822.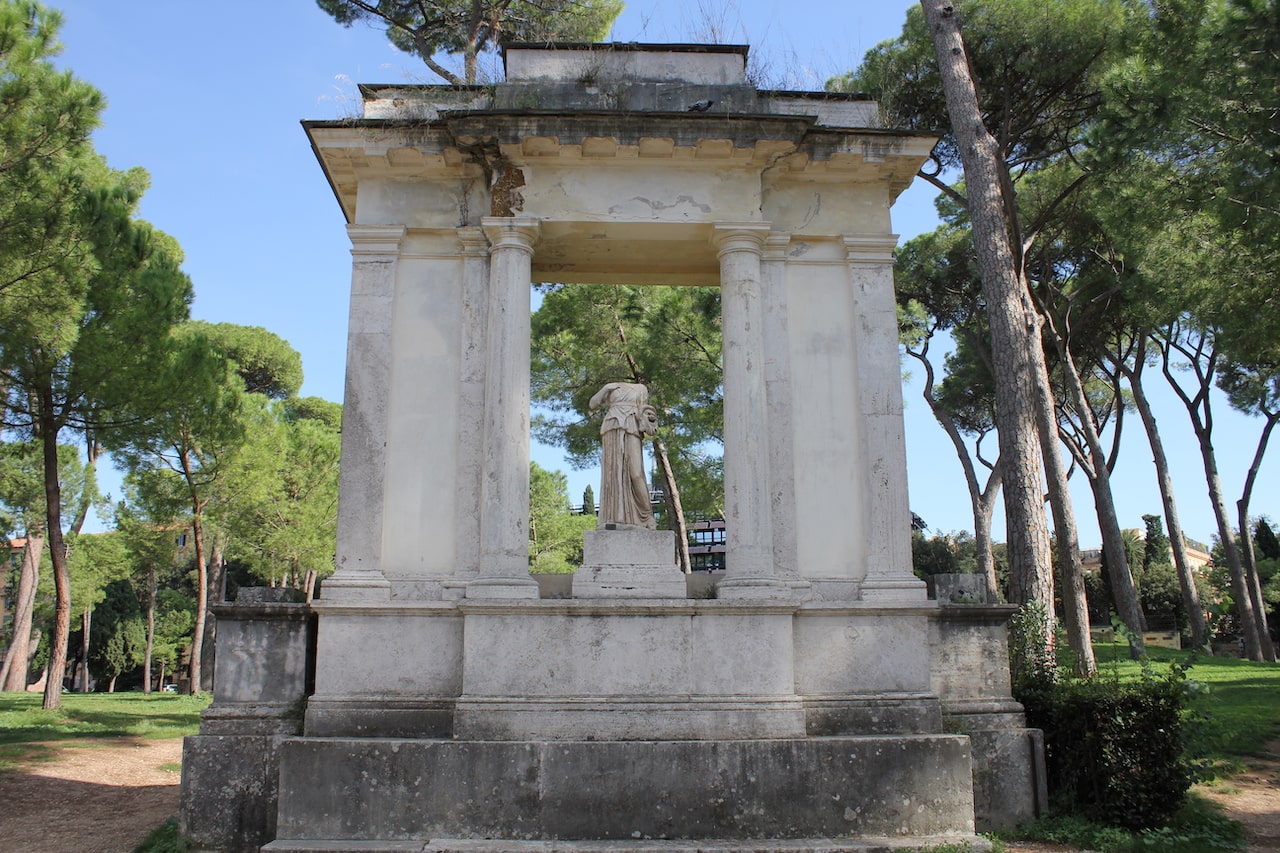 3. Have a drink
Thirsty or peckish again? Now is a good time to grab a drink at the La Casina dell'Orologio near the Obelisk in the Pincio Promenade area.
Spend your evening in Villa Borghese at the Terrazza del Pincio
1. End your day at the Terrazza del Pincio
A highlight of any trip to Rome is to enjoy the views over the Eternal City in the late afternoon or early evening light from the Terrazza del Pincio. You simply can't miss it when exploring the Pincio Promenade area of the Villa Borghese Gardens.
Looking over the Piazza del Popolo, you can clearly see the Vatican and St Peter's Basilica. From there, the view stretches to the Altare Della Partia overlooking Piazza Venezia.
Bring your own drinks and snacks and find a great spot to base yourself at on the Terrazza del Pincio. Then simply enjoy watching the colours change as the sun goes down over Rome.
You can exit Villa Borghese here and find your way back to your hotel via Piazza del Popolo.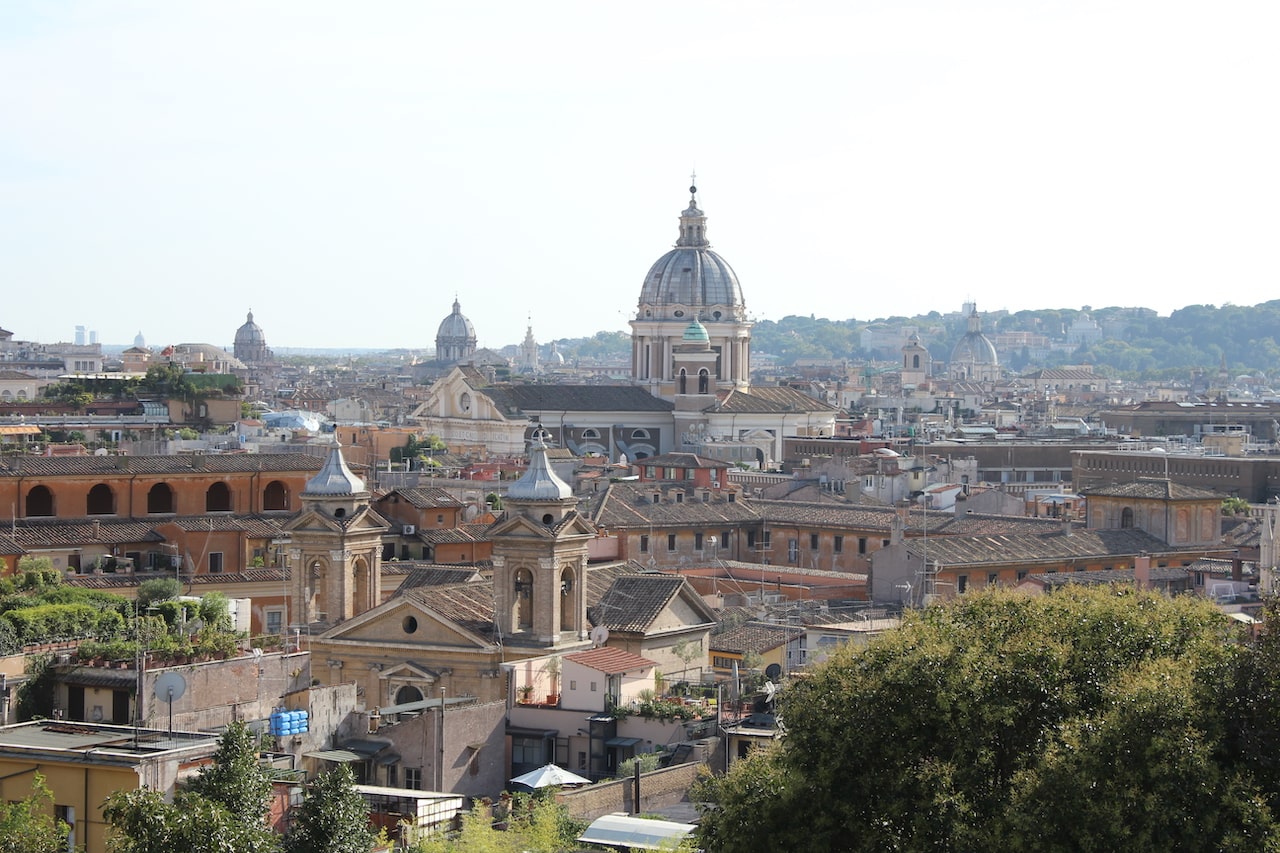 More tips for visiting Borghese Park in a day
Tip 1. Enjoy the Springtime
Spring (outside of the Easter week) is a good time to spend a day at Villa Borghese. While the crowds haven't reached their peak, the temperatures are mild and spring colours brighten up the gardens. From late September to early November is also a good time when visitor numbers go down and fall colours appear.
A great way to enjoy the Borghese gardens is to have a picnic instead of sitting down at a café or restaurant.
 Tip 2. Why don't you book a tour?
If you don't have time to spend a full day in Villa Borghese Park, why not book a half-day tour which includes the Borghese Gallery and some garden highlights?
If you're not in the mood for walking, you can always book a

Segway tour

of the Borghese Gardens. There are even bicycle tours for the more energetic.
Tip 3. General informations
It can be hard to

find a toilet

once you start wondering around the Borghese gardens. Generally, the cafes will allow you to use their toilets if buy something to eat or drink. Also make use of the opportunity to use the toilet at the Borghese Gallery.
Download a map of Villa Borghese Gardens before your visit. Alternatively, physical maps are sold near the main gates.
There should be no doubt that it's totally worth spending a day in Villa Borghese Park in Rome. From visiting the Borghese Gallery to finding the Piazza di Siena, Temple of Asclepius, and Terrazza del Pincio. This one-day itinerary will help you not to miss any of the highlights of Villa Borghese.