How to Visit the Villa Borghese Zoo: Ethic and Tickets
---
The Villa Borghese zoo in Rome is a beautiful place to visit if you have a spare day. It was actually first opened in 1911 and then left to fall into ruin. Only recently has it been renovated and renamed a 'biopark'.
You'll see all sorts of animals, including big cats, penguins and more. It seems strange to have such a large zoo in the center of Rome, but they make it work!
It's also a great place to take kids. It's a quieter place for them to unwind and unleash any energy. They can run from enclosure to enclosure, and play in the activity parks.
Here's everything you need to know about how to plan your visit to the Villa Borghese Zoo, including the Bioparco hours and Rome zoo prices.
Bioparco conservation and ethics
The villa Borghese zoo makes a big effort to treat their animals properly. Here are some of their policies designed to keep the animals safe and happy.
The animals aren't expected to perform
They don't offer any humiliating shows or public 'showing off' events for the animals. Instead the creatures and critters are free to go about daily life as they please, without any stress or pressure to perform.
You're not allowed to feed the animals
They also don't let the public feed the animals, because just like us, animals need a healthy diet too. So there's no risk of them eating anything that could be harmful.
The animals have privacy
One thing they do slightly differently to other zoos, is they've constructed the enclosures to give the animals the option of hiding.
This means if an animal is stressed or unwell, it can hide away from tourists, until it feels better or wants to come out.
A lot of zoos don't do this, and build enclosures to always have the animals on show, even if they're stressed and just want to be left alone. Flash photography is also banned in the zoo, to avoid scaring or annoying the animals.
So if you're an animal lover, but don't want to condone animal cruelty, you can rest assured that this is one of the most ethical zoos you can visit. So you can enjoy animal sightseeing without feeling guilty. The animals are looked after and loved by their keepers.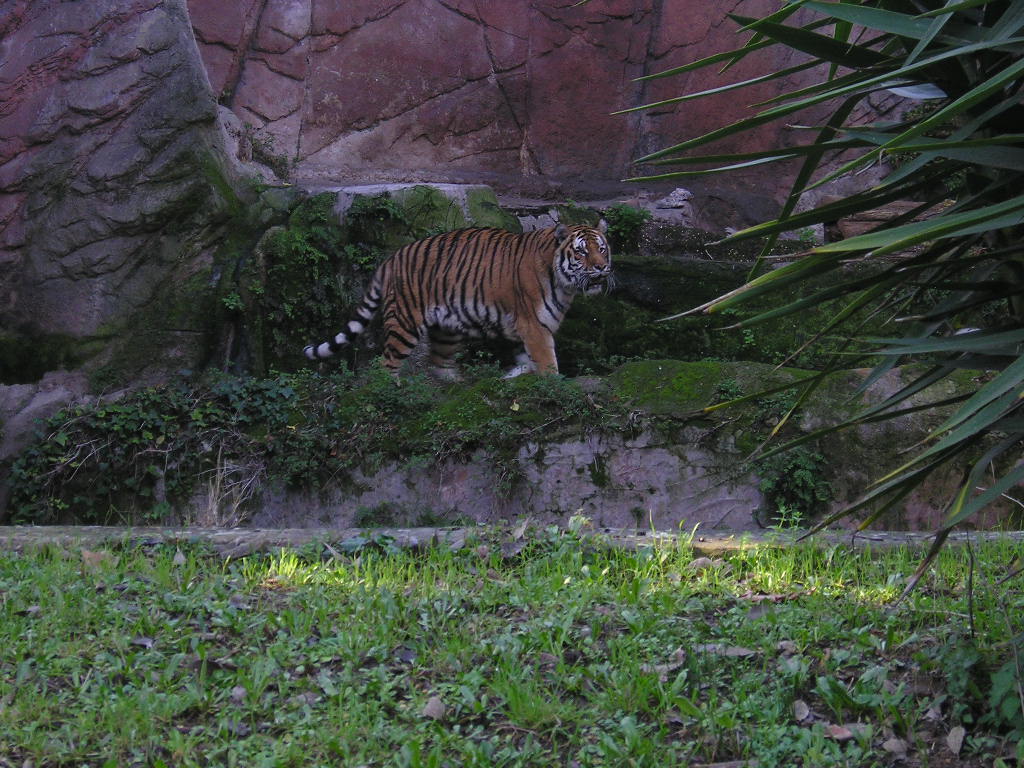 Getting to the Villa Borghese zoo
You will find the zoo essentially right in the center of the city. The official address is: Viale del Giardino Zoologico, 1, 00197 Roma RM, Italy.
If you're coming by car, there is a large free parking area in front of the zoo. If you're coming by bus, you can get the 61, 160 or 53 buses from Via Vittorio Venetto and then it's a short walk from the bus stop.
If you're walking, the villa Borghese zoo is only about 200 meters from the Borghese Gallery. You can walk up the steps, or there is a lift for disabled persons.
You can see the exact location of the zoo on the map below: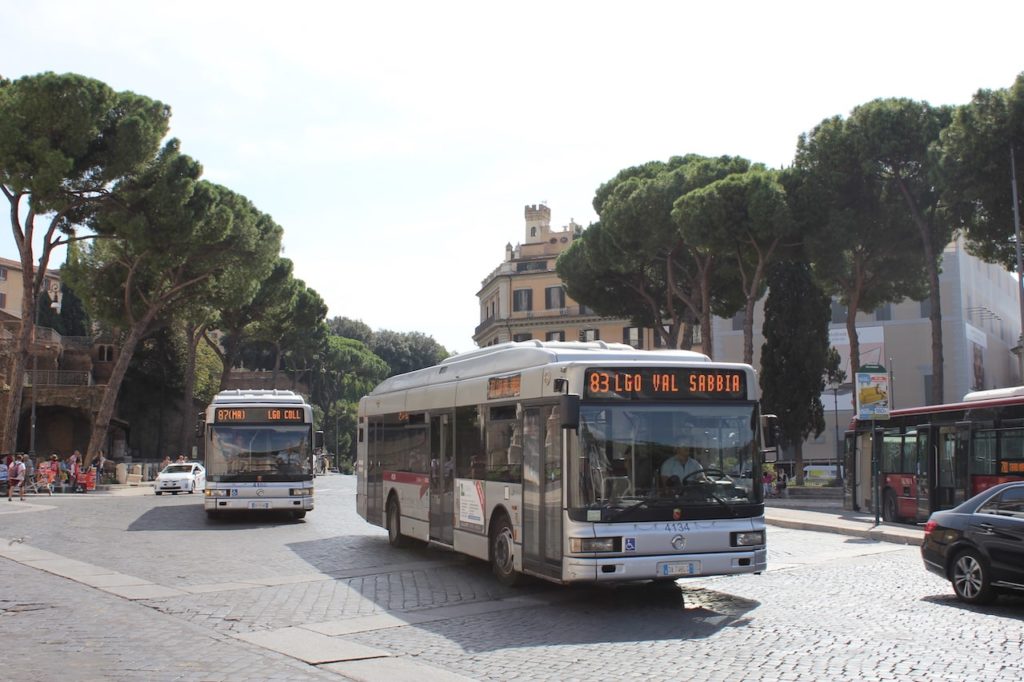 It's open every single day of the year except the 25th December, however there are some things to note about their closing times.
It's usually open 9.30AM until 5PM but certain animal enclosures can close sooner or later than that. Some for example close 45 minutes BEFORE the official zoo closing time due to the individual needs of the animals.
The last entrance to the zoo is 60 minutes before the closing time so make sure you get there with plenty of time to see all the animals and exhibits.
The exact Bioparco hours throughout the years are:
| Period | Opening time |
| --- | --- |
| 1 Jan – 26 Mar | 9.30 am – 5.00 pm |
| 27 Mar – 31 Oct | 9.30 am – 6.00 pm |
| 1 Nov – 31 Dec | 9.30 am – 5.00 pm |
Only on Saturdays, Sundays & holidays, from 27 March – to 26 September, there are extended hours from 9.30 am to 7.00 pm.
We'd suggest allowing about 2-3 hours to see the entire zoo properly. Some people can do it faster or slower, but that's the average time.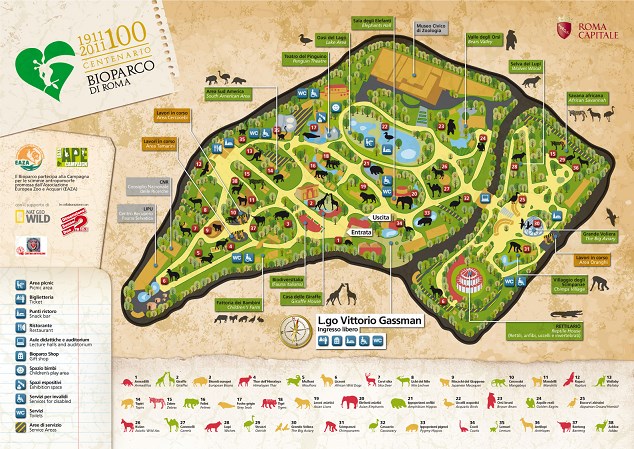 Rome zoo prices and tickets
There are several options for buying tickets for the Villa Borghese zoo in Rome. However, children under 1 meter tall get in for free.
As for the Rome zoo prices, standard adult tickets cost €16 each. There are children's tickets available for those under 10 (and over 1 meter tall) for €13.
Discounted tickets are also available for senior citizens and groups. These discounted tickets cost €13 per person, but on Wednesday's senior citizens can get even cheaper tickets for only €6!
How to book tickets to the Villa Borghese zoo ?

The best way to book tickets is usually online, and there are many options for tickets online. You can book standard individual tickets, group tickets, season tickets and even book birthday parties. We'd suggest booking in advance to avoid being turned away if it's really busy.
Villa Borghese Zoo: Things to do

There are many different things to do at the Rome zoo, and it's not even all about seeing animals. There are events, guided tours, a train going around the site and more.
The zoo contains many different birds, big cat enclosures, a reptile center, lemurs, giraffes, flamingos and more.
There is also a lovely little train that goes around the whole site, and you can buy tickets for the train for about 2 Euros on the day.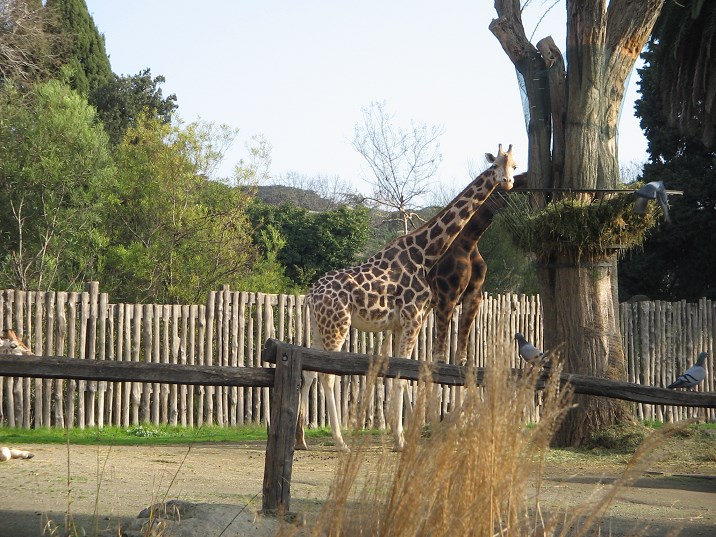 Guided tours of the zoo
You can find many guided tours in the zoo, but you'll need to book them 7 days in advance. Tour guides will be able to tell you all about the animals and how they need to be looked after. You can arrange booking for tours through the Bioparco's School and Groups
Call Centre:
Tel.: +39 06.3614015
Fax: +39 06.90280908
Bioparco events
There are also Halloween and Christmas events at the zoo, although the zoo itself isn't open on Christmas day (25th December). You need to book those events in advance as they tend to sell out fast.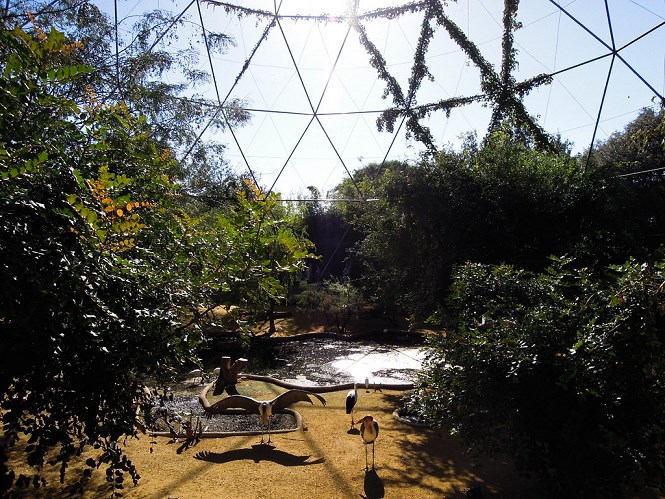 There are several facilities in the Villa Borghese zoo, including coffee shops and restaurants, picnic areas, restrooms and children's play parks. So there's everything you need to be able to spend a full day there.
You can buy snacks, drinks or a full lunch at the zoo. And little ones can break up the day by unleashing their energy in the play parks. There's also a bookshop and gift shop where you can buy souvenirs.
Bioparco: Useful things to know
Our top tip would be to make sure to see the restored aviary. It's home to several species of bird and it looks fantastic since it's been restored.
The other thing you probably won't want to miss (and children certainly won't want to miss) is the reptile house! Note that the reptile house is an extra couple of Euros on the door though.
And one thing to remember when walking around the zoo is not to throw peanuts or other food at the animals! As much as you think the animals might like to share your snacks, it's not good for them.
Try not to throw any sort of food into the enclosures. The zoo staff make it very clear that it could be dangerous to the animals and could even be fatal!
The Villa Borghese zoo is a lovely day out for the whole family. There's lot of things to see and do there, and you can buy tickets online, right now!
We'd suggest buying skip the line zoo tickets. This is because you never know how busy it's going to be, and you'll want to avoid a massive queue if you can!