Borghese Gardens Restaurants and Cafes: where to Relax and have Lunch
---
Stuffed with museums and sculptures the Borghese Gardens is a former vineyard and formal garden covering over eighty hectares!
Winding your way through the lush gardens or exploring the museums will certainly have you working up an appetite. Make sure to stop off at one of these cafes or restaurants in Villa Borghese Rome to get a much needed energy boost.
We will even give you some tips at the end of this article if you want to shun the crowds and have a picnic in Villa Borghese Rome instead!
Choose your Borghese Gardens restaurant
There are a number of cafes and restaurants in Villa Borghese, Rome. Whether you want a formal affair or are just looking for a light refreshment before you tackle more sights, there is something to suit everyone here.
Check out the establishments on offer in Villa Borghese, Rome and start arranging your itinerary today.
Borghese Gardens Restaurant: Café Casina del Lago
This pretty and ornate café is the perfect place for a quick pick me up. Located near the Bilotti Museum  – which houses a decent modern art collection –  you can grab a quick bite in the shade of the trees.
This is a mid-range café rather than a Borghese Gardens restaurant, so expect Paninis, coffee and sandwiches. You can also enjoy a gelato or refreshing cold drink – perfect in the height of summer. Stop here for example if you have missed breakfast or need a caffeine fix.
Given the location inside the gardens, the prices are higher than average café in Rome, and expect to pay more to sit in.
Usefull informations
Average Prices: Expect to pay at over 4.50€ for a coke, and 2.50€ for a coffee.
Opening Hours: Tuesday to Sunday, 9am-5pm
Location: Via Dell'Aranciera, Villa Borghese Park
Contact : +39 06 8535 2623
Borghese Gardens Restaurant: Casina Valladier – Vista Restaurant
This is one of the restaurants in Villa Borghese, Rome that you will want to try if you can afford it!
Known for its spectacular views over Rome, Casina Valladier is a good place to stop if you are off to visit the Spanish Steps. Casina Valladier is often recommended to visitors who want a good place at which to watch the sunset.
However, you will need deep pockets to dine out here! The Vista Restaurant, situated on the third floor of this former villa is an elegant place in which to dine. With a delicious menu coupled with romantic views over the city, it is no surprise that many a marriage proposal has taken place here!
Sit back with a glass of wine and enjoy the views, or imagine this is your very own villa!xte
Usefull informations
Average Prices: Up to 9€ for a soft drink, and the cheapest appetiser we can find on the menu is €23!
Opening Hours : 12:30pm – 15:00pm, 19:30pm – 23.00pm
Location: Piazza Bucarest, Villa Borghese
Contact: (+39) 06 69922090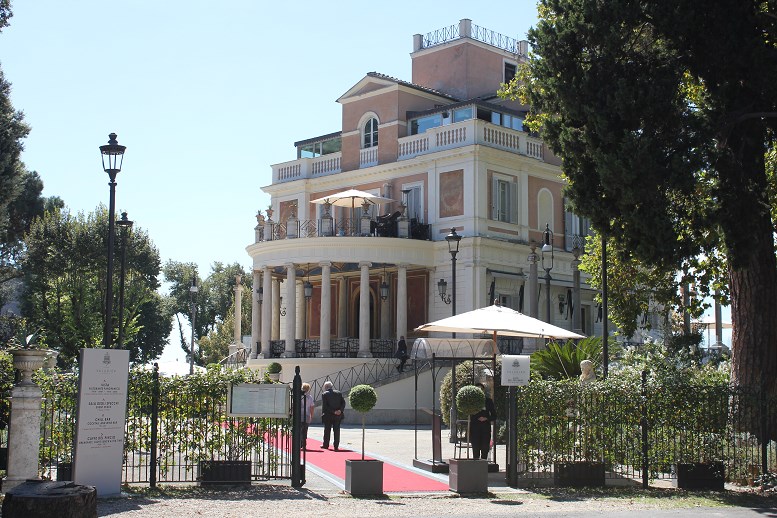 Borghese Gardens Restaurant: VyTA Villa Borghese
This Borghese Gardens restaurant is a popular one for those with kids. Sit under the portico and watch them run around whilst you enjoy lunch and take in the views.
There is an interesting menu on offer here in the restaurant, or you can just grab a coffee if you prefer. It is a good place to stop after visiting the cinema. The indoor restaurant has an interesting, if not slightly brash, décor.
Here you can sample a wide range of Italian dishes if the heat of the day is too much for you. Take a look at the website to get a feel for the place here.
Usefull informations
Average Prices:  7€ for a soft drink,
Opening Hours : Open all day from 8am until Midnight!
Location: Largo Marcello Mastroianni, 1, 00197 Roma RM, Italy
Contact: +39 06 8771 6019
Borghese Gardens Restaurant: Pincio
The Pincio Terrace is known amongst locals and tourists alike for being a place at which to enjoy the best views. It is here that you will find the Casina Vallidier, the Borghese Gardens restaurant with the best views.
You can access the terrace by crossing a pedestrian bridge from the Borghese Gardens. Once on the terrace you will be rewarded with amazing vistas over to the Vatican and beyond.
In addition, it is good news for those who cannot afford the steep prices of the Casina Vallidier! The Pincio Terrace is a great place for a picnic in Villa Borghese! Purchase yourself a good sandwich and a bottle of juice (or wine) in one of the many nearby supermarkets and have a brilliant picnic on top of the world. Your wallet may thank you for it!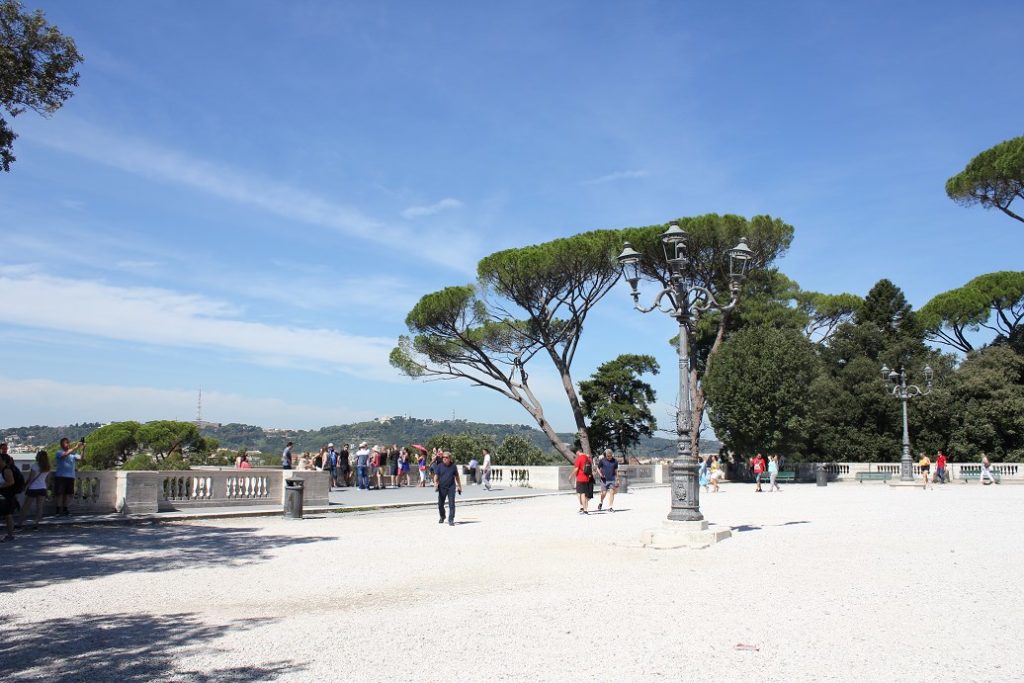 Other spots for a picnic in Villa Borghese
Whilst we are at it there are several other sweet spots at which you can enjoy a picnic in Villa Borghese. A picnic is a fabulous alternative to eating in a tourist-packed restaurant or café.
The Villa Borghese gardens offer the perfect opportunity for those wishing to be right in the heart of Rome but who also enjoy some personal space. One of the most beloved places in the Villa Borghese for a picnic is by the lake. Sprawl out under a tree and enjoy a leisurely lunch before perhaps hiring a rowing boat or feeding the ducks.
If you do not fancy bringing your own sandwich or perhaps want something a bit special, Gina's on Via San Sebastianello will make you up a delicious picnic basket complete with cutlery for that extra special occasion! Just make sure to return the basket when you are done!
Conclusion to the Borghese Gardens Restaurants
Of course, there is plenty more choice available in Rome if you do not wish to eat within the Villa Borghese itself. There are a couple of restaurant "hotspots" near the Villa Borghese that are worth a look if you are in the area.
If this appeals to you, head on over to our Restaurants in Villa Borghese guide to work out the best option for you.
1 Comment