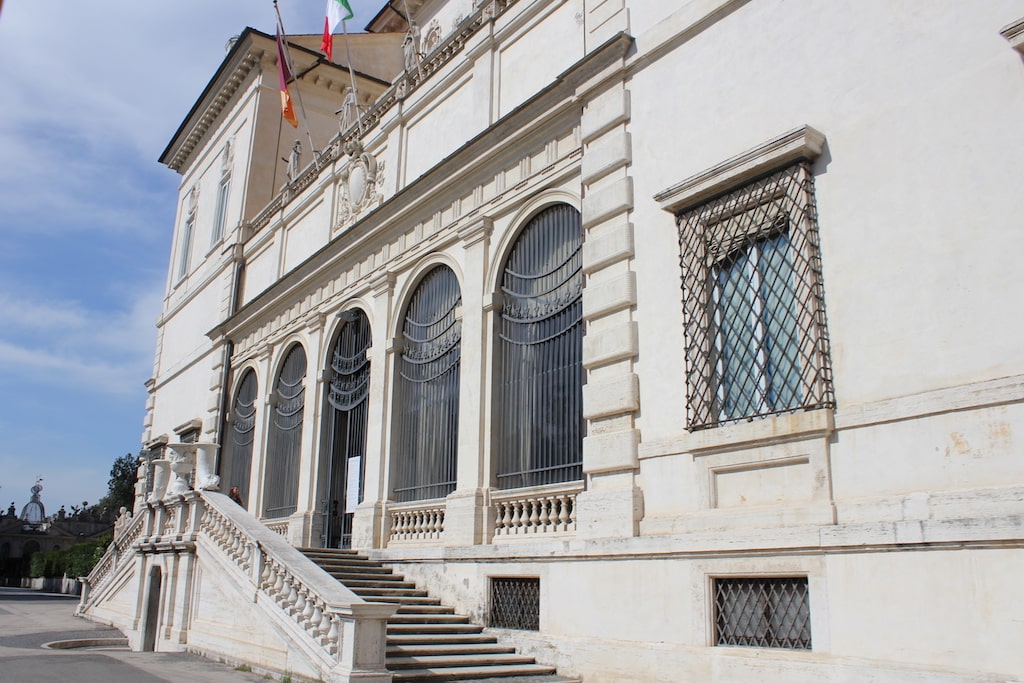 Borghese Gallery tours: visit with an audio guide or by yourself?
---
Rome's Borghese Gallery is one of the finest art museums in Italy. It's so popular, that visitors have been limited to 360 people in 2-hour time slots. This system has advantages and disadvantages (albeit less of the latter).
One of the biggest decisions facing visitors is how they should approach their tour of the gallery. Is it possible to take a self-guided tour, should they rent an audio guide, or should they book an organised tour?
Because many people opt for the first two, this article is dedicated to answer your questions about a Borghese Gallery audio tour vs a Borghese Gallery self-guided tour.
A cardinal and art lover by the name of Scipione Borghese started to collect and commission valuable pieces of art to boast with at parties during the 17th century. Word of his impressive collection quickly spread across the continent. Soon, wealthy British travellers started knocking on the cardinal's door in the hope of getting a glimpse of the treasures hidden inside his Villa Borghese.
It's not exaggerating to say that Borghese, a nephew of Pope Paul V, eventually owned one of the biggest and most valuable private art collections in the world.
Unfortunately, his ancestors were later forced to sell many of their Roman sculptures and antiquities to the Roman Empire. Ironically, a lot of these have found their way to the Louvre in Paris.
However, there are still many paintings and sculptures worth seeing in the Borghese Gallery. The collection is rich in ancient Roman, Renaissance, and Baroque art. Major works by great artist such as Raphael, Bernini, Caravaggio, Titian, Canova, and Rubens are to be seen.
Scipione Borghese's colourful history means there is an interesting story behind most of the artworks he acquired. For this reason, it's not an art gallery where one can simply admire the sculptures and paintings and be done with it. You want to know more. And this is only possible through some form of tour.
In this post, we're comparing a Borghese Gallery audio tour vs a Borghese Gallery self-guided tour.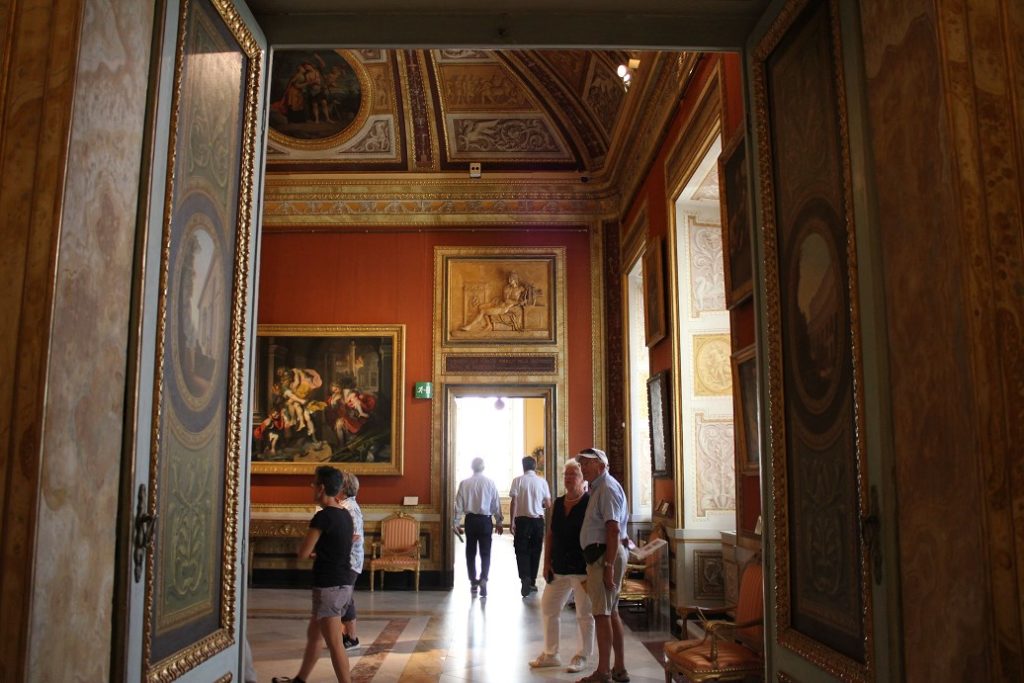 Borghese Gallery self-guided tour
Naturally, the basic information about the artworks and their creators is available inside the gallery. There are brochures and signs to read. This can be adequate if you're not interested in too many details.
The benefits of a Borghese Gallery self-guided tour:
1.     Manage your visit
You can manage your time spent in the Borghese Gallery as you wish. Staying within the 2-hour limit, you can decide where you want to spend more or less time.
2.     Avoid tour groups
You are flexible to avoid crowds caused by organised tour groups. After entering the museum, you can pick your own starting point away from the groups.
3.     Choose your preferred art pieces
You can focus on art works that really interest you. Some people like to spend more time admiring the sculptures than the paintings and others do it the other way around.
No-one will judge you if you skip an entire room or turn your nose up at a particular collection.
4.     Same entrance fee
It costs nothing extra. You pay the €15 to get in (€13 plus €2 reservation fee) and that's it.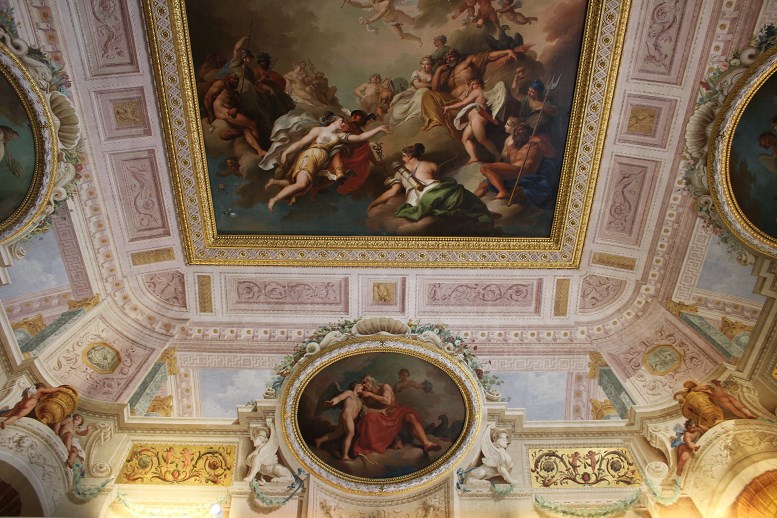 Borghese Gallery audio tour
A Borghese Gallery audio tour is perfect for you if you want to hear rather than read about the artwork. This is provided you don't want to join an organised tour with expert guide.
The audio guide provided by the Borghese Gallery is very well put together and only costs €5. They can be rented in the lobby area in the museum's basement. You can get all the details on the official gallery website.
The benefits of a Borghese Gallery audio tour:
      You can do the tour at your own pace without worrying about keeping up with a tour group.
      You can spend more or less time in certain areas, depending on what holds your interest.
      You can skip items that you're not interested in or only listen to some parts to save time.
      You don't have to reserve ahead of time. After entering at your allotted time, you can simply walk over to the audio guide desk and rent one.
      Borghese Gallery audio tours are available in English, Italian, French, German, and Spanish.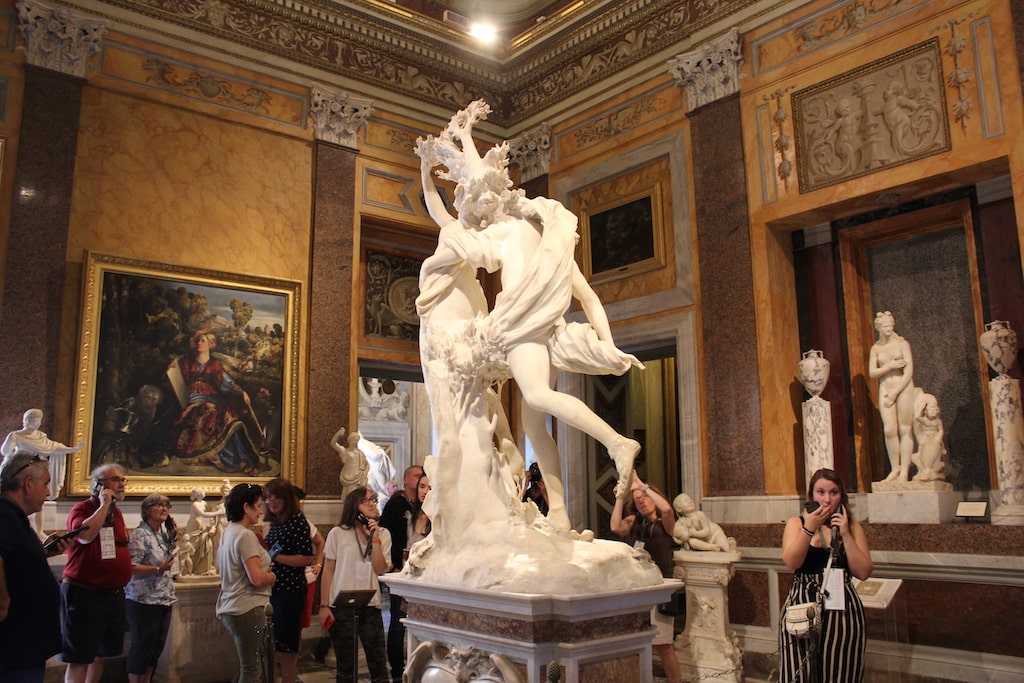 Tips for your Borghese Gallery self-guided tour
Tip 1 – enjoy the Borghese Gallery house
Keep your eyes open for art even before you enter the Borghese Gallery. For example, a double stairway which was designed by Michelangelo leads you to the main entrance. Look up and around at the beautiful ceilings and marble. Then, after entering, look down at the floor mosaics depicting gladiator fights.
Tip 2 – look for the Borghese masterpieces
Don't miss the three famous sculptures by Bernini. They are David sculpture, Pluto and Proserpina, and Apollo and Daphne.
On the same floor as Bernini's sculptures, are six excellent paintings by Caravaggio.
Tip 3 – arrive in advance
Give yourself enough time to get organised before starting your self-guided or audio tour. Arriving at least 30 minutes before the start of your allotted time slot will reduce a lot of stress, especially if you still have to collect your Villa Borghese tickets, check in bags, rent an audio guide, or go to the bathroom.
Tip 4 – start with the 1st floor
Do things the other way around by starting your Borghese Gallery self-guided tour with the paintings on the first floor. Most of the other visitors to the museum will start with the sculptures on the ground floor.
Book your Borghese Gallery tickets in advance

We can't stress this enough. Due to the limitation on visitor numbers to 360 people in 2-hourly slots, you can't risk waiting until after arriving in Rome to reserve a spot.
Especially in the busy tourist season from June to October the chances are that certain time slots are booked out weeks in advance.
What are you waiting for? We highly recommend you to book your skip-the-line Borghese Gallery tickets now.
Borghese Gallery guided tours – an alternative to self-guided tours
When all is said and done, your interest in the Borghese Gallery's artworks may be so big that you'd prefer a guided tour.
Or you want to combine a tour of the gallery with some other attractions in Rome or even just the Borghese Gardens.
If this is the case, here are some of the options available to you.
Also read this article to find out if a Borghese Gallery tour is worth it.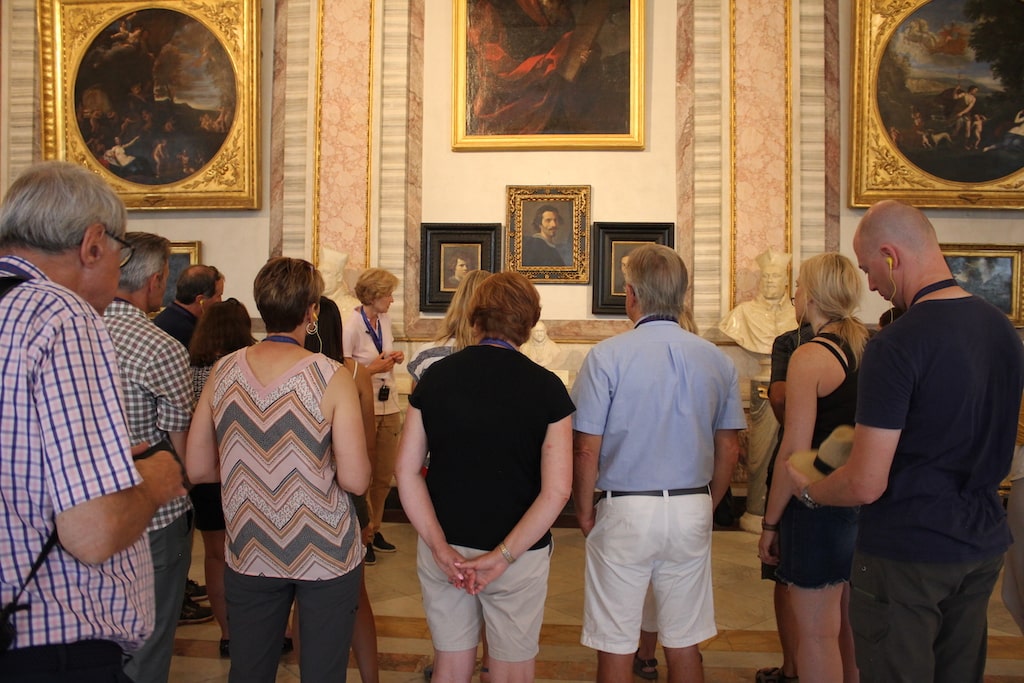 There are many different ways to explore the Borghese Gallery. In the end, it depends on your own preference. Do you want to be totally independent on a self-guided tour or get a little help from a Borghese Gallery audio tour? The choice is yours. And if both of these options aren't enough to feed your curiosity about the artworks, there are guided tours available to fit your travel plans and level of interest.