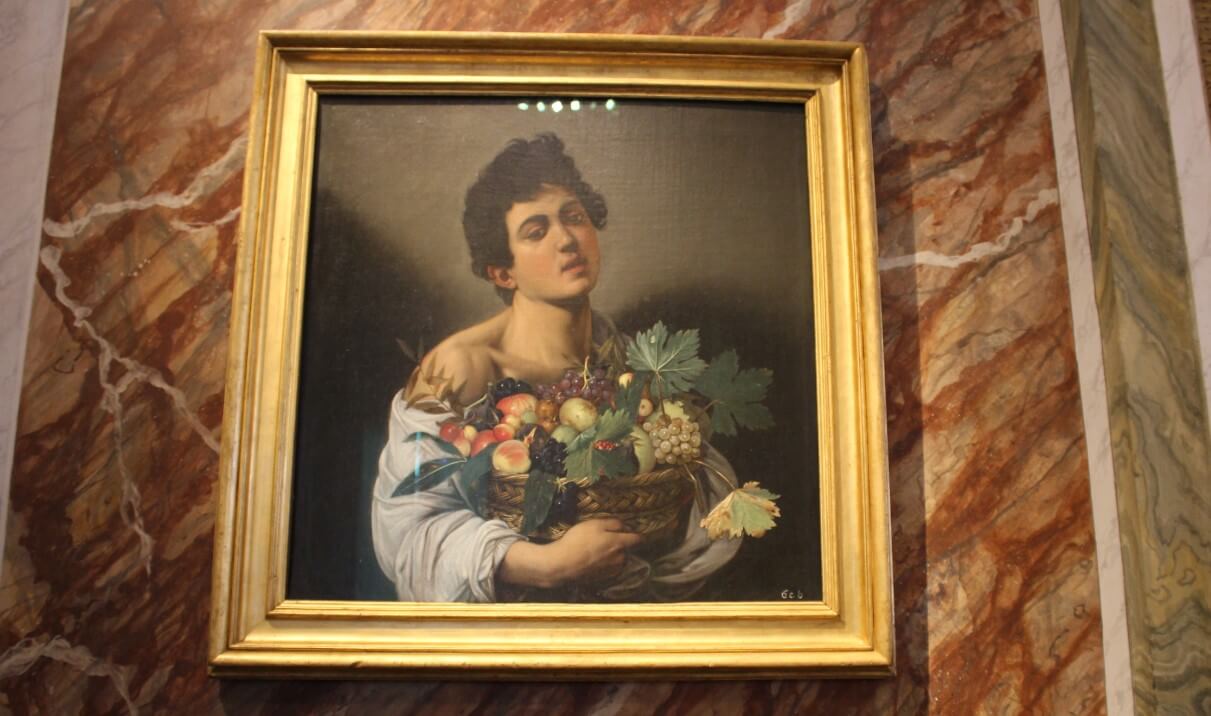 Caravaggio Boy With a Basket of Fruit: Meaning Tickets & Hours
---
Credited as being one of Caravaggio's early works, the Caravaggio boy with fruit painting is thought to date to around 1593 to 1595. It is believed it was painted just after the young artists move to Rome from Milan. His sponsors at the time were the brothers Bernardino Cesari and Cavalier d'Arpino.
The Caravaggio Boy with a Basket of Fruit is not a self-portrait. In fact, it is a painting of one of the artist's close friends – Mario Minniti – who was also a painter. Minniti features in several other paintings from the time as well.
Caravaggio's full name was Michelangelo Merisi da Caravaggio. But that's a bit of a mouthful, so he is usually known by his surname. A controversial figure – both within the world of art and in his private life – it is rumoured he had a criminal past.
Some of his crimes are kind of funny – like throwing vegetables at waiters – others are a bit more shady. He wrote a pretty gross poem, for which he was sued and put in jail for a few weeks. He had to leave Rome in the end over rumours he had killed someone…
Caravaggio didn't have an easy start to life – both of his parents died during the plague – and he had to move to Rome towards the end of the 16th century to make a living. That's when we start to see paintings appearing under his name.
Boy with a Basket of Fruit Analysis – What's in the Basket?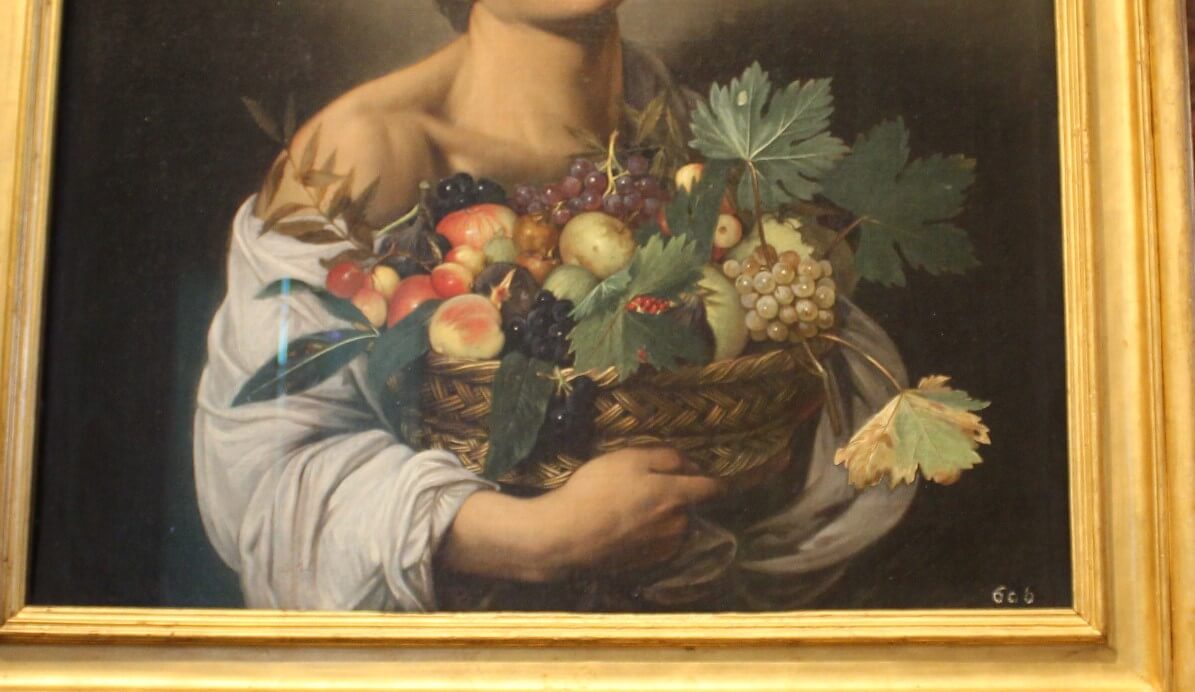 Painted on canvas, the Caravaggio Boy with a Basket of Fruit 1593 can be seen in the Villa Borghese today. True to his style, he painted not a perfect fruit selection, but one that showed impurities. You can therefore see not only healthy fruit, but also dying leaves and spots on the flesh.
There is a wide range of fruit in the basket – peaches, grapes, figs, apples and pears all appear – although the colours are not particularly bright. This is thought to be done to ensure enough attention is paid also to the boy in the picture. As he did elsewhere, Caravaggio also painted the figure against a bland wall, not out in a field or street scene. This is to keep the eye on the main aspects of the painting and not draw it elsewhere.
The Meaning Behind Boy with a Basket of Fruit
The ripe fruit is a symbol of youth and fertility, and matches to the young man in the picture. It is thought to also be a symbol for temptation – relating back to Biblical stories of Adam and Eve. However, some art critics claim that at this early stage in his career, Caravaggio was purely painting "something nice" that he knew viewers would like.
They draw reference from much later paintings of fruit by Caravaggio – such as the Still Life With Fruit on a Stone Ledge. In this later work, the fruit is depicted in a much more "sensual" manner.
How to get Tickets for Caravaggio Boy with Fruit?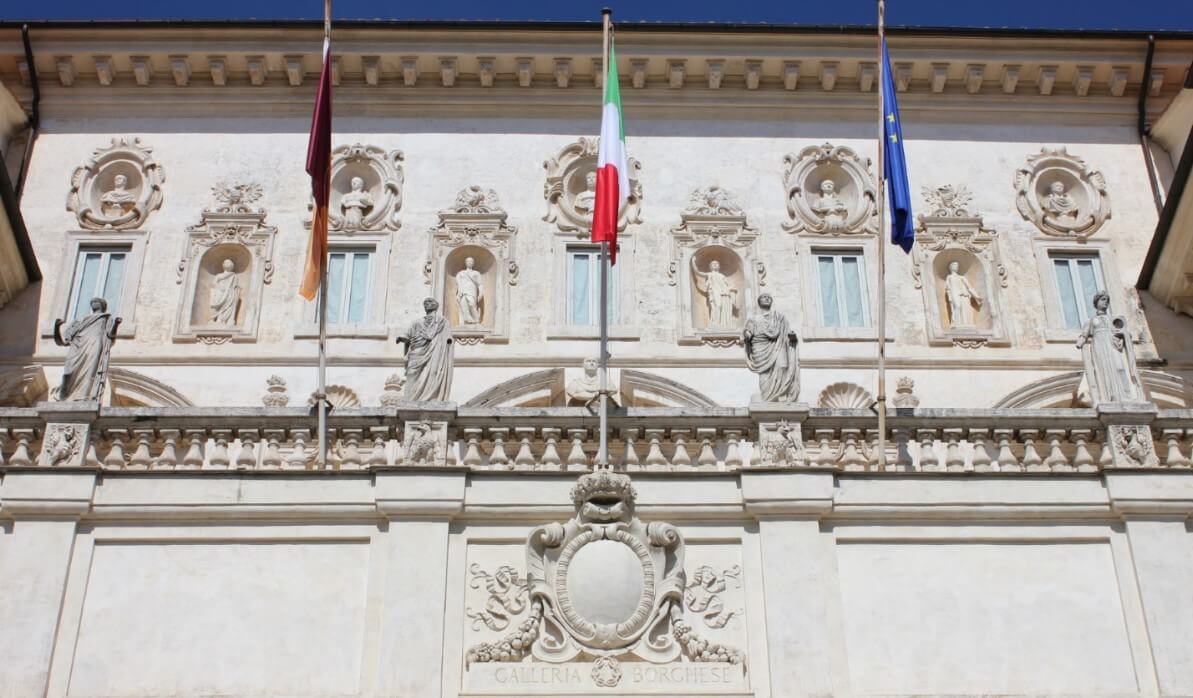 You will need to visit the Borghese Gallery to see this masterpiece. And this is not one of Italy's attractions that you can just rock up to. Limited numbers of visitors are permitted access each day (currently 100 per session) , so you need to reserve in advance.
Standard tickets cost €13, but there are a wide range of discounts available. These mainly pertain to students, those holding special European educational cards, disabled persons and employees of certain artistic institutions. Either way, everyone needs to pay the additional €2 reservation fee to book a place .
Luckily, we have created a whole guide to help you sort out tickets and access, including the reservation.. Check it out here. Oh, and if you have invested in a Roma Pass access is free (you still need to reserve in advance).
The Galleria Borghese is located within the Villa Borghese, which in itself is a beautiful park. (Check out our guide to the Villa Borghese Gardens here for more information). The full address is Piazzale Scipione Borghese, 5, 00197 Roma RM, Italy.
There are 5 sessions x 100 people each day. The first visit is at 9am, the last at 5pm Each visit lasts 2 hours.
The Borghese Galleries are open every day apart from Christmas Day and New Year's Day. So there is no excuse not to visit!
There are a wide range of transport options – from bus to train as well as taxi. The museum publishes an extensive transport list including all the stops and other information here.
Frequently Asked Questions

Where is the Boy with a Basket of Fruit?
Visit this masterpiece in the Galleria Borghese.
What are the other paintings of Caravaggio?
Young Sick Bacchus, Crucifixion of Saint Peter and The Calling of St Matthew are amongst some of the many works by Caravaggio.
Is the Caravaggio Boy with a Basket of Fruit his most famous painting?
Caravaggio holds claim to many famous paintings, so it is really hard to say which one is his most famous!
Make sure you book your Galleria Borghese tickets well in advance of your visit to ensure a place. Then you can see the Boy with a Basket of Fruit in all its glory!