La Fornarina by Raphael – The Portrait of a Young Woman – Full Analysis
---
The Raphael painting La Fornarina is an early 16th century oil painting that is on display in the Barberini Palace in Rome. Known for being one of the last of Raphael's paintings, the La Fornarina portrait of a young woman is generally thought to be of a local baker's daughter.
Her name was said to be Margherita Luti "La Fornarina" (fornarina meaning baker in Italian). It is reputed that she was Raphael's Roman lover, although this is the cause of some dispute.
The painting shows a half-naked woman, draped in a cloth from the waist down. Her breasts are exposed, and she is covering only a small part of her left breast. Her gaze is slightly familiar, perhaps showing a very slight hint of a wry smile.
On her head, she wears a headband, and on her left arm is an armband engraved with the words Raphael Vrbinas. This is often taken as a sign that the painting is of a woman with whom Raphael had a close relationship.
History of La Fornarina – the Baker Woman
Those scholars who claim that the painting is of Margherita Luti la fornarina do so due to the fact that she appeared in many of Raphael's paintings. Rumour has it that he was besotted with her but that she refused time and time again to marry him.
Proponents of this theory point to the fact that the model is wearing an armband with Raphael's name on it. The claim holds further weight due to the fact that there is a faint ring on her finger. This leads many scholars to claim that the lady is in fact Margherita Luti la fornarina.
Other Theories on La Fornarina by Raphael – Analysis and Meaning
Some dispute the fact that the painting is of Raphael's lover, claiming that the painting is either a Belle Donna idealisation of female beauty. Others still purport that La Fornarina is actually depicting a witch, and that the term Fornarina was actually used at the time to refer to witches.
Some claim the painting is simply that of a prostitute to whom Raphael took a fancy. This claim carries some weight, as sex workers during that time were obliged to wear a yellow covered cloth on their head.
A final point of note on the painting is that several scholars have claimed that La Fornarina is depicting breast cancer, and that the left breast of the woman shows signs of malignancy, including a swollen lymph node and some discoloration.
All about the Famous Painter Raphael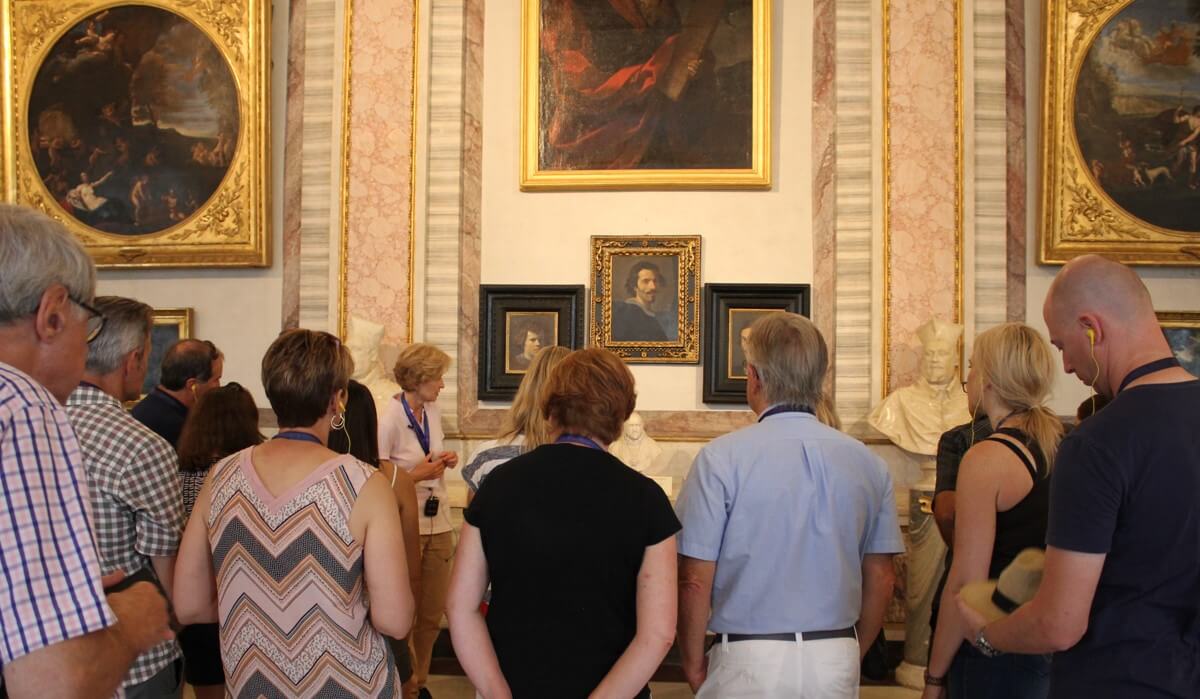 Raphael was a renaissance era painter who met an untimely death at the age of just 37. Despite this, he is known for a vast volume of works.
Up there with the other Renaissance greats such as Da Vinchi and Michelangelo, he was orphaned at the age of eleven and spent his time either managing either his father's workshop or training under several masters.
From a young age, his work showed major promise, and he was eventually invited to move to Rome from northern Italy by the pope. On arrival, he was commissioned to complete perhaps his most famous pieces of works in what are now known as the Raphael Rooms. We've a full breakdown on just what you can see in the Raphael Rooms in the Vatican.
In 1520 he died, leaving behind not only a large collection of works but also a legacy via his apprentices, of an unknown illness. In his final will he left provision for Margherita Luti "La Fornarina" to be cared for. He is buried in the Pantheon.
Raphael's Famous Masterpieces
The Raphael Rooms, as already mentioned, display some of Raphael's best works. Stunning frescoes that were painted in the pope's library can be viewed as part of a visit to the Vatican. Amongst them is the Fire in the Borgo and The Deliverance of St Peter.
But Raphael created a number of famous paintings too. The Transfiguration, on display in the Pinacoteca, and the Holy Family – which you will need to visit in the Louvre – are amongst his most famous, as is the Sistine Madonna which is particularly famous in Germanic countries.
How to Get Tickets to See La Fornarina
The painting is on display in the Palazzo Barberini, which is one of two locations belonging to the Galleria Nazionale d'Arte Antica (GNAA) in Rome. As a site that houses many of Italy's older painting collections, it is fitting that the La Fornarina painting can be found here.
Entry is free for those under 18 of any nationality, teachers in the Italian school system and those holding a disability pass.
Adults entry costs €10 and can be booked here. Those aged 18-25 benefit from a reduced price of just €2.
Best Time to Visit the Raphael Painting
Like many of Rome's great attractions, there can be lines or queues. Some firms offer skip the line tickets which can help you beat the queues.
Best to visit Rome's attractions in general outside of any European school holidays, when the crowds are somewhat thinner. If you must visit in the peak season, then perhaps wait until the end of the day and get there around an hour before closing. The majority of the group tours will be finished by then. Many of the bus tours or cruise day trippers have already left.
Palazzo Barberini Opening Hours
| Days | Opening Hours |
| --- | --- |
| Tuesdays - Sundays | 10am to 6pm |
| Christmas Day & New Year's Day | Closed |
The palace is open daily from 10am to 6pm Tuesdays through to Sundays. The museum is closed on Christmas Day and New Year's Day.
Where is la Fornarina Housed?
The La Fornarina painting can be viewed as part of a tour of the extensive collection of art works housed in the Palazzo Barberini here.
Frequently Asked Questions about La Fornarina

Here are the top questions we receive about La Fornarina for you to review!
Why was la Fornarina created?
There are several theories as to how La Fornarina painting came about. But, it is generally believed that it is a tribute to Raphael's muse and lover Margherita Luti, who was the daughter of a baker. Apparently Raphael was infatuated with her, and she features in a number of his works.
Where was la Fornarina created?
The La Fornarina painting was most certainly completed in Rome in the year of Raphael's death (1520).
Was Raphael married when he painted la Fornarina?
Officially no - Raphael was actually engaged for many years to the niece of a cardinal, and something was making him delay the wedding. What was it? Well, after his death the painting was sold by his trusty assistant.
Later, when it was being cleaned up, it became apparent that what looks like a wedding ring on the finger of the muse had been covered over! So, was Raphael actually secretly married to La Fornarina? Guess we will never know.
This famous painting may hide a story that goes deeper than first meets the eye! Let us know if you get the chance to view the real La Fornarina, or if you just manage to see the very good copy that is housed in the Borghese Gallery.