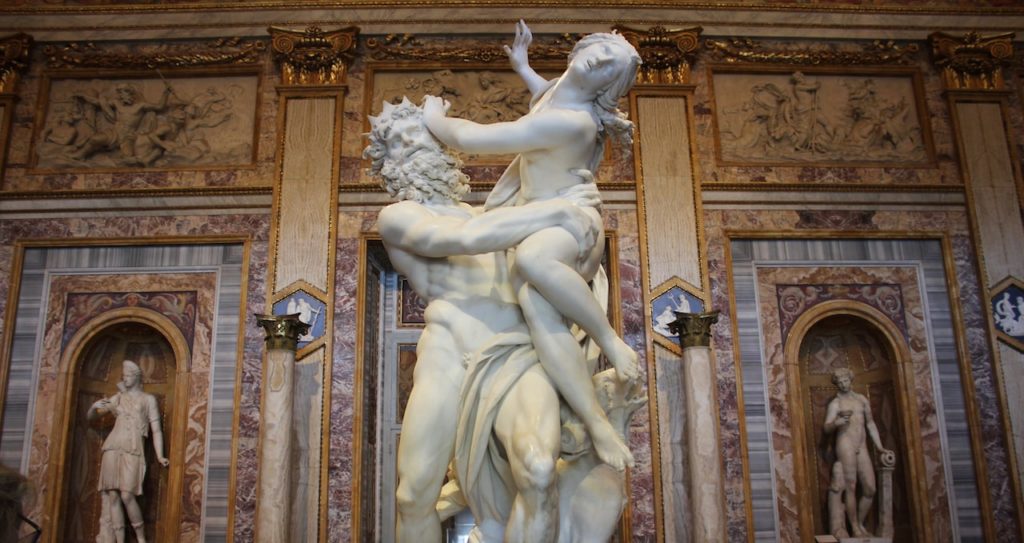 Private tour of the Borghese Gallery: dive into the world of art
---
It's no secret that Rome is an art lover's paradise. That's what you'd expect from a city filled to the brim with works by the likes of Michelangelo, Da Vinci, Caravaggio, and Bernini, isn't it?
One of the best places to see fabulous art in Rome is the Borghese Gallery. And if you're truly interested in particular works and their history, there's no better way to explore the Villa Borghese, home to the Borghese Gallery, than on a private tour.
Let's look at what you can expect from a Borghese Gallery private tour.
Who is a private Villa Borghese tour for?
Of course, anyone will enjoy a private tour of one of the world's most valuable private art collections.
But since it may not fit everyone's budget or itinerary, here is a list of people we think will most benefit from a Borghese Gallery private tour.
1.     Serious art lovers
These are the people who can stare intensely at a painting for minutes on end, oblivious of everyone around them.
These are also the people who want to know every detail about an artwork. What is the history behind it, what motivated the artist, how did it get into the possession of Scipione Borghese? If the answers aren't in forthcoming, their museum experience can easily be ruined by frustration.
The good news is that a private Villa Borghese tour is led by an expert guide. In many cases the guide is a qualified art historian who knows Rome's art like the palm of his hand.
2.     Historians
To understand Rome's history is to understand its art. Or is it the other way around?
If you're an historian, you'll understand that Roman history and Roman art interact for a complete picture of Rome then and now.
For example, you'll learn the story behind the "Venus Victrix", one of the highlights in the Borghese Gallery.
It's a statue of Pauline Bonaparte, sister of Napoleon, by sculptor Antonia Canova. It was commissioned by her husband, Prince Camillo Borghese. Unfortunately, they were separated by the time it was completed.
A private guide won't only give you this history but will also enlighten you about the symbolism of Pauline holding an apple in her hand.
3.     Fans of all things Roman
The Borghese Gallery's main floor is almost entirely devoted to artefacts from the 1st to the 3rd century AD. This includes the famous mosaic of gladiators which was found on the Borghese estate at Torrenova.
If you want to hear little-known facts about ancient Rome, you'll certainly hear them on a Borghese Gallery private tour.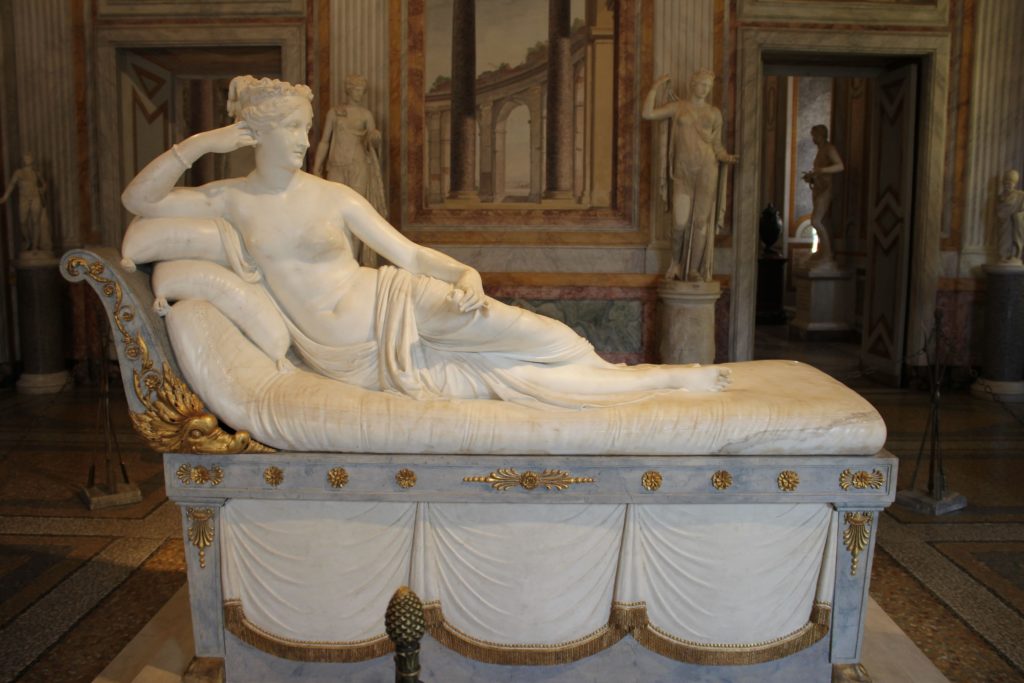 How does a Borghese Gallery private tour work?
A Borghese Gallery private tour doesn't mean you'll be alone with your guide in the museum. With most 2-hour time slots sold out, this simply isn't possible.
However, what it does mean is that your guide is at your exclusive service. "Your" in this case are you and the other members of your party.
Take note: A minimum of 2 adults are required for most private Villa Borghese tours to be conducted.
This is what you can expect of a private Villa Borghese tour:
Duration
Most Borghese Gallery private tours are between 2 and 3 hours long.
Guide
The registered guides who lead private Villa Borghese tours are all extremely knowledgeable about the work in the gallery and Roman art in general. Some are qualified art historians and others are lifetime students of art, bringing their passion with them.
Meeting place
Private guides generally wait for their guests at the entrance to the Borghese Gallery. They stand holding a sign with the name of the tour company you booked through.
In rare instances, when your hotel is within a 15-minute walk from the gallery, the guide will meet you there.
What you'll learn
To go into all the details about what you'll learn on a private Villa Borghese tour is rather impossible. Suffice it to say that you'll walk out of there with a lot more memorable knowledge than the other visitors.
Just in case you're not convinced, here are a few tasters:
     What was the dark past of Caravaggio whose masterpieces take up almost an entire room in the gallery?
     Who was the Borghese family and why did they sell many of the original art in Villa Borghese to the Emperor?
     What is Napoleon's link to Villa Borghese?
     Who was Gianlorenzo Bernini?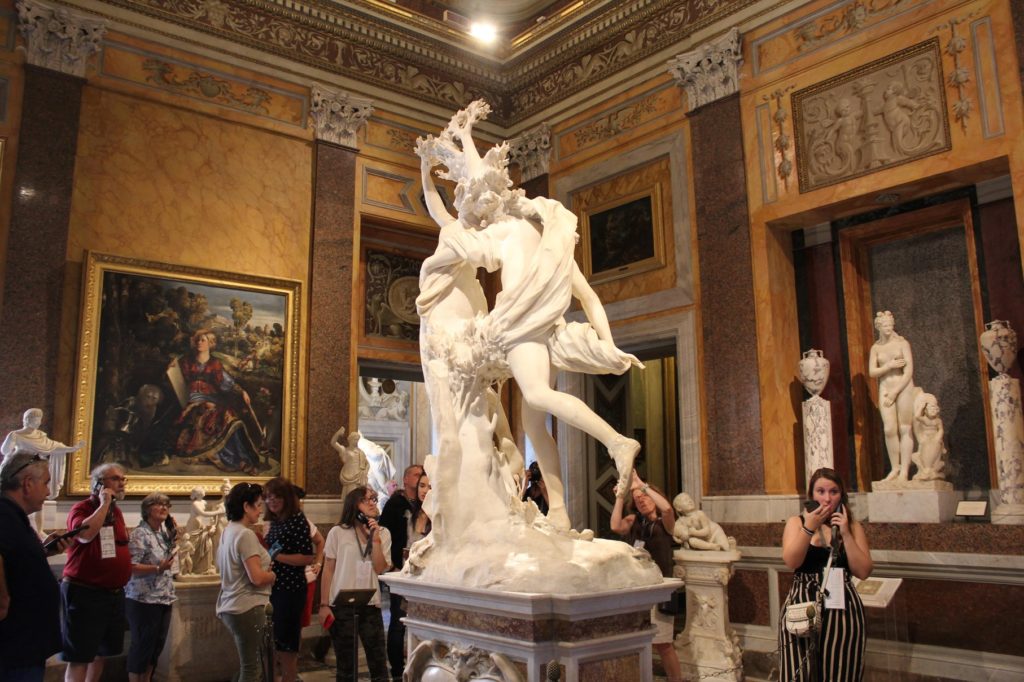 How much does a Borghese Gallery private tour cost?
Private Villa Borghese tours can cost between €61 and €295, depending on the duration, number of participants, and what is included. Your tickets and skip-the-line entry is guaranteed to be included.
Some offers are only a walking tour accompanied by an expert guide through the gallery. Others are more comprehensive and cover the gallery and Borghese gardens (up to 2 people).
Book online and stop worrying
If you book your private Villa Borghese tour online your worries about finding a time-slot and printing or collecting tickets stop there.
The tour company takes care of all the arrangements, meaning you have more time to focus on planning the rest of your Rome trip.
You don't even have to read up about the Borghese Gallery before you arrive. Teaching you all the important facts about the artworks is your guide's job, isn't it?
If you are a group of 15 people maximum, you can click bellow to book your Villa Borghese private tour now:
Tips for your private Borghese Gallery tour
Tip 1
If possible, ask the tour company to book your tour for the first slot in the morning or the last one in the afternoon/evening.
The reason is that these tours are less likely to be booked out, especially in the low season.
Being in the gallery with your private tour guide when there are fewer other visitors will allow you to learn even more about the artworks.
Tip 2
Arrive at least 30 minutes in advance. It will give you time to find your guide, get through the introductions, check in your bags and other bulky items, and go to the bathroom without stressing about time.
Tip 3
You may tip the guide if you feel he or she was worth it.
Tip 4
Guides can't read your minds. Don't be shy to ask questions if you want to know more about a certain painting or sculpture.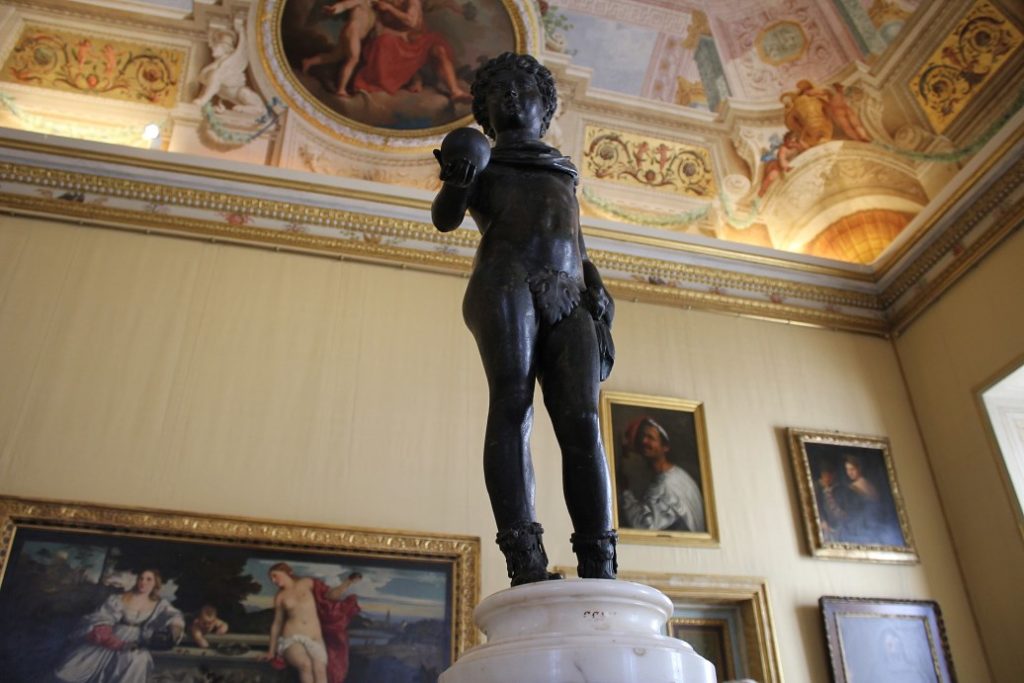 Visiting the Borghese Gallery on a private Villa Borghese tour with a knowledgeable guide can turn out to be one of the highlights of your Rome visit.
If you're an art lover, you should certainly consider paying the extra money for an expert private guide. You'll learn so much more about the masterpieces of Bernini, Caravaggio, Rubens, Raphael, and Titian, to name a few.
1 Comment