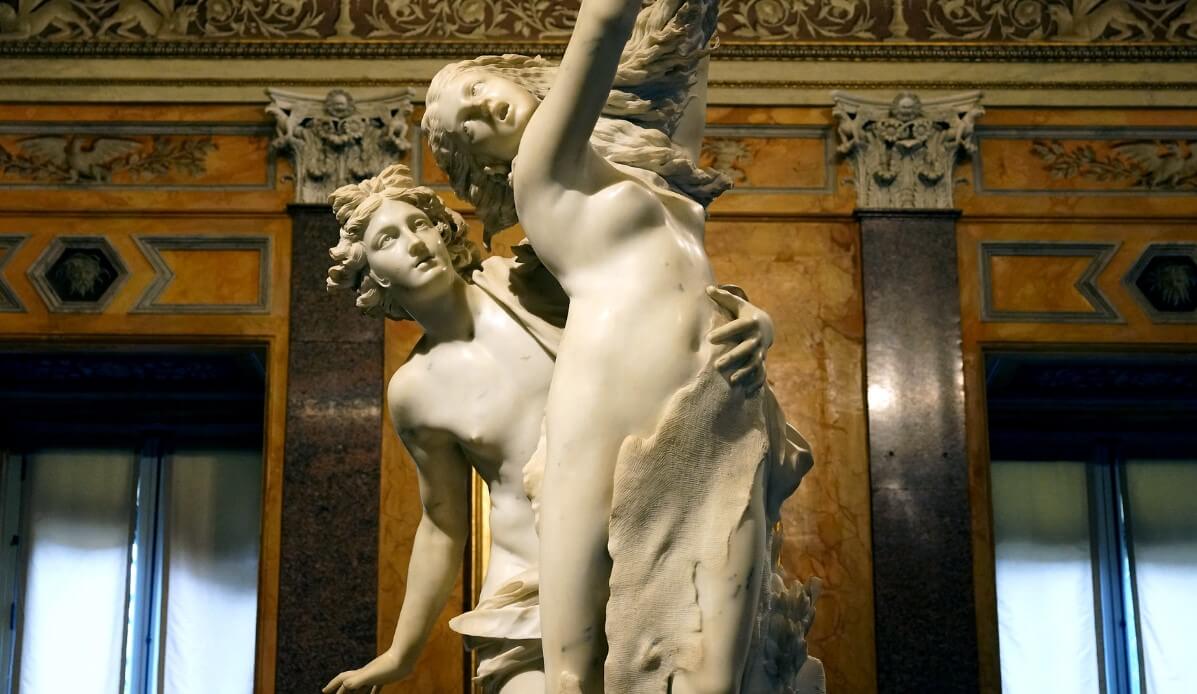 Apollo and Daphne: All about the Story & Sculpture
---
The Apollo and Daphne myth dates back to Greek mythology. It is also the inspiration for the stunning baroque marble Apollo and Daphne Bernini sculpture. The story can be found in the Apollo and Daphne Ovid verses in Book 1 of the famous Metamorphosis.
Despite its ancient origins, the myth is very much one that has relevance to this day.
The History of Apollo and Daphne
The gist of the story is that Apollo was punished by Eros, the god of Love because he had mocked him previously. Eros shot Apollo with a golden arrow, which caused him to fall in love with Daphne. But he also shot Daphne with an arrow filled with lead.
The lead caused Daphne to eternally hate Apollo! But he pretty much stalked her until one day, she begged her father to do something. So her dad turned her into a laurel tree. But still Apollo remained obsessed. He gave the tree the gift of eternal youth – so basically that's why the laurel tree is an evergreen!
Apollo and Daphne Story Analysis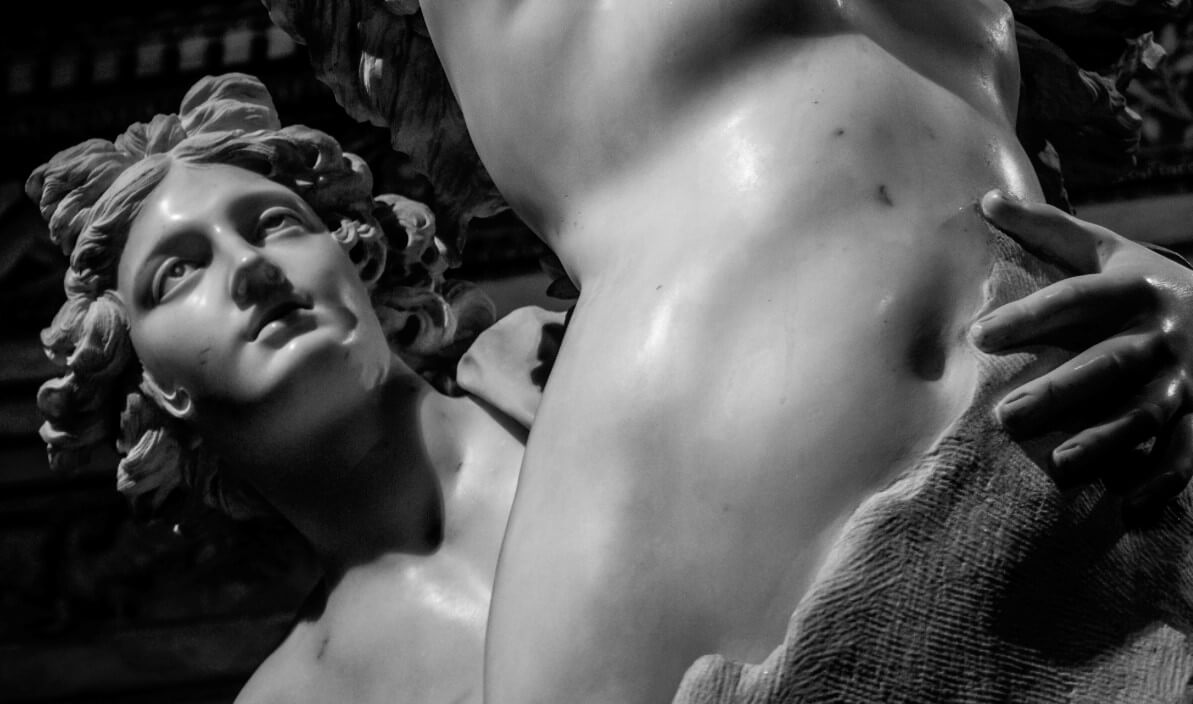 In Greek mythology Daphne is portrayed as a nymph who shunned marriage. In fact, she was a bit of a tomboy and preferred to spend her time messing around in the woods. On her request her father eventually agreed to let her remain a virgin. This is despite him begging previously for grandchildren! So the story of Daphne and Apollo has been interpreted to centre around the themes of lust and chastity.
Animal metaphors were used by Ovid to portray Apollo as the predator, whereas Daphne became the prey. Words such as "flight" are used, which fit with the use of the words "dove" and "eagle" throughout the verses.
About the artist – Gian Lorenzo Bernini
Born in Naples in 1598, Bernini is thought to be the guy that kicked off Baroque era sculpting. Sculpture, painting, architecture and city planning were amongst his many talents. He's thought to be up on a par with Michelangelo and the other greats.
The Apollo and Daphne Bernini sculpture was completed in 1625, but that is far from the end of his great works. The Sculpture of David or the Bust of Pope Paul V are amongst others.
Apollo and Daphne Sculpture Analysis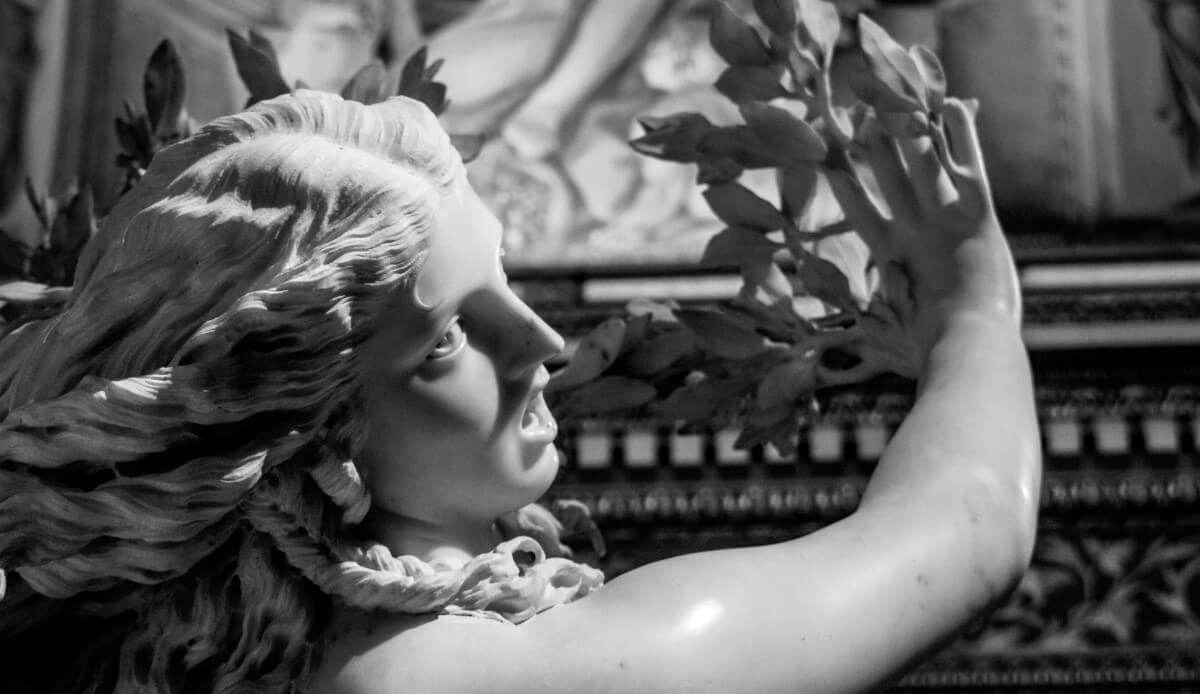 The Gian Lorenzo Bernini Apollo and Daphne sculpture is astonishing. It is life sized and entirely made of marble. Housed in the Villa Borghese, the sculpture was commissioned by Cardinal Scipione Borghese. The Apollo and Daphne Bernini sculpture is said to have designed it to be seen from the right hand side.
In this way, the viewer can see the reactions of both simultaneously. It stands at 96 inches tall and depicts the moment of transition of Daphne to the laurel tree.
Few Facts about Cupid arrows in Greek mythology
The Roman's spin on Eros was Cupid, who is still famous today for the Cupid's Arrow. His arrows had either a pointed tip or a blunt, lead end. Cupid too has his own love story, but we will leave that for another day.
Things you can learn from Apollo and Daphne myth – Moral lesson
There are apparently multiple moral lessons to be learned from this story. It is said Apollo's story should teach you to let go. Daphne's is said to be a lesson for those who are stubborn.
3 Famous Apollo and Daphne Love Quotes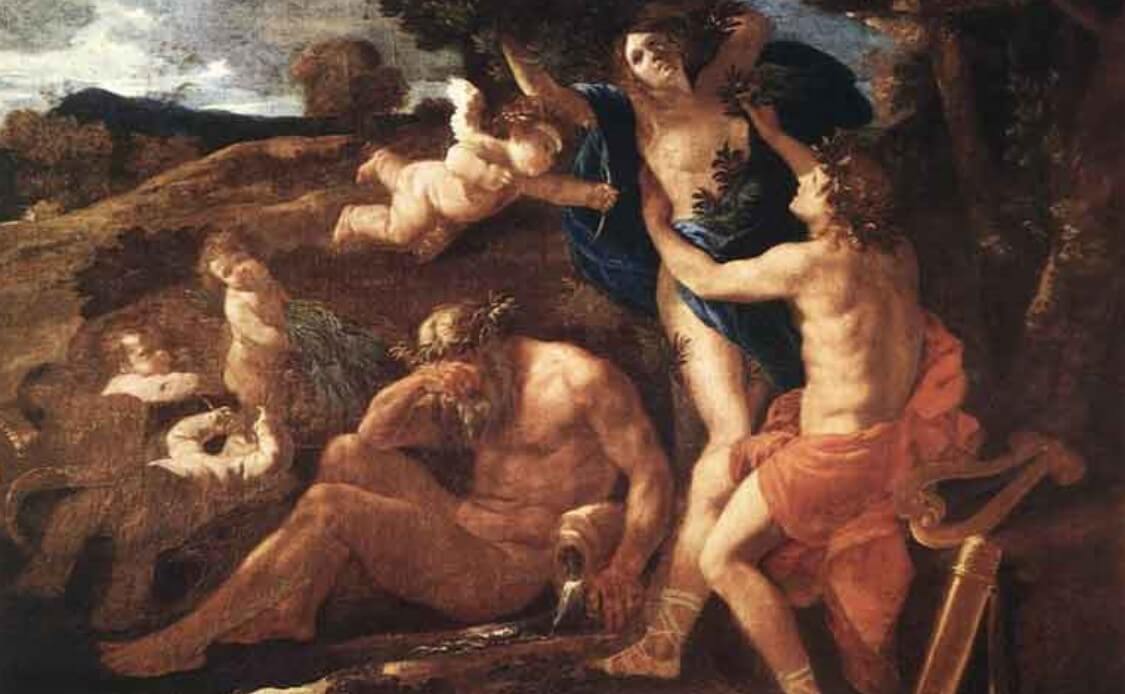 Here are some of the most poignant quotes in this story.
These three are probably the most famous of all:
"Your arrows may strike all things else, Apollo, but mine shall strike you" Eros / Cupid mocks Apollo back before shooting him with the arrow
"Dearest father, grant me this favour, that I may always remain unmarried, like Diana." This is Diana pleading with her father before being chased by Apollo
"Help me, Peneus! Open the earth to enclose me, or change my form, which has brought me into this danger" Diana pleads to her father, and he responds by turning her into a tree.
Get tickets for this astonishing statue
You need to get tickets to visit the Borghese Gallery. Actually, you also need to reserve in advance online, even if you are in possession of a ticket (for example, if you have a Roma Pass that lets you in). That's because only a certain amount of people are allowed in at a time. Get the full lowdown on the Borghese Gallery here.
| Days | Hours |
| --- | --- |
| Monday | Closed |
| Saturday, Sunday, Tuesday & Friday | 9am - 7pm |
| Wednesday | 9am - 10pm |
| Thursday | 9am - 9pm |
Location & How to get there
Piazzale Scipione Borghese 5,
00197 Roma, Italia
The best way to get to the Borghese Galleries is by Bus. Lines 61, 63, 92 and many others run through Pinciana/Museo Borghese or the nearby S.Paolo del Brasile stop.
Frequently asked questions

How Apollo and Daphne are still relevant in today's culture?
Yes - if even the Greek Gods had flaws, it can help us deal with the flaws in ourselves and those around us.
How was Apollo and Daphne sculpture made?
The sculpture is made entirely from marble. It is extremely intricate, especially for example Daphne's hair. Giuliano Finelli is credited with helping Bernini on some of the more time consuming parts.
Why does Cupid shoot arrows at Daphne and Apollo?
Cupid / Eros shoots arrows in revenge for Apollo mocking him.
Where is Bernini's Apollo and Daphne?
Check it out in the Borghese Gallery.
What type of myth is Apollo and Daphne?
The story is founded in Greek mythology.
The Apollo and Daphne sculpture by Bernini is NOT to be missed! If you have the time to visit the Villa Borghese and the Borghese Gallery when in Rome, do it!
Get the full Borghese guide from us right here, including tickets, things to see and other hints and tips.